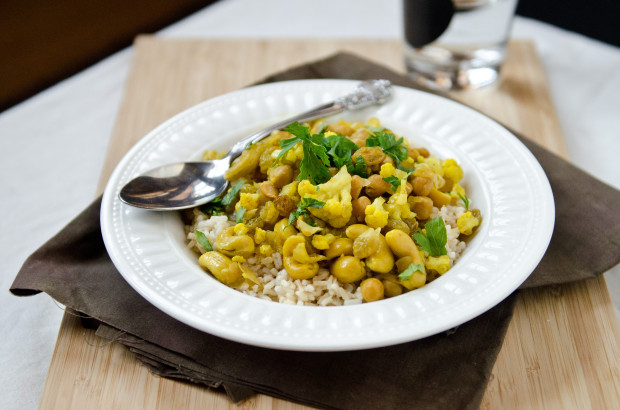 As a food blogger, I love to cook. And I love to eat! But most week days, the last thing I want to do after work is cook. The weekends are another story. I usually marathon cook and bake on the weekends! After work, I often look to meals that will take about 30 minutes (for both the prep and cooking time). This cauliflower and chickpea curry is one of our family favourite quick & easy recipes. We have it a few times every month. Not only does it come together quickly, it's also incredibly delicious and packed with protein and fibre. It's filling and leaves us enough left overs for lunch the next day. Bonus! The ingredient list may look a tad long, but most of the ingredients are spices you likely have in your pantry. I prefer to use fresh ginger and garlic for this recipe, but ground ginger and garlic powder are just fine. Since I use ginger in a lot of cooking, I like to keep a few pieces of peeled ginger in the freezer. Whenever I need a bit of ginger, I pull a piece out of the freezer, grate enough for my recipe and put the rest back in the freezer. Works great!
Here's a few of our other favourite 30 minute meals:
Pineapple & Cashew Quinoa Curry Bowls
Sweet & Sour Vegetable Stir-Fry
Roasted Cauliflower and Red Onion Pasta
Moroccan Roasted Vegetable Couscous
Vegetarian Thai Peanut Stir-Fry
What's your favourite 30 minute meal? (feel free to include a link in your comments!)
30 Minute Cauliflower & Chickpea Curry
Ingredients
1 tablespoon of olive oil
1 large yellow onion, diced
1 tablespoon of sugar
3 cloves of garlic, minced
1 tablespoon of grated ginger (or 1 teaspoon of ground ginger)
2 teaspoons of balsamic vinegar
1 tablespoon of curry powder
1 teaspoon of ground cumin
1/4 teaspoon of cayenne (optional)
2 cups of low-sodium vegetable broth
1 small to medium cauliflower, cut into florets (about 6 cups)
1-14 ounce (398ml) can of chickpeas, drained and rinsed
1 cup of unsalted cashews
1/2 cup of golden raisins
salt and pepper to taste
parsley or cilantro for garnish
4 cups of cooked brown rice or basmati rice
Method
Cook rice according to package.
In a large saucepan, heat the oil over medium-high heat. Add onion and sugar. Sauté for 6 minutes, or until the onions are soft and translucent. Add the garlic, ginger, balsamic vinegar, curry powder, cumin and cayenne. Stir until the spices and onion form a paste. Whisk in the vegetable broth.
Add cauliflower florets and chickpeas. Bring curry to a boil and then reduce to a simmer. Cook for 15 minutes on low-medium heat. Add the cashews and raisins. Cook for 5 more minutes. Season with salt and pepper (about 1/4 teaspoon each).
Serve curry over brown or basmati rice. Garnish with fresh chopped parsley or cilantro.
Source: loosely adapted from Canadian Living Magazine