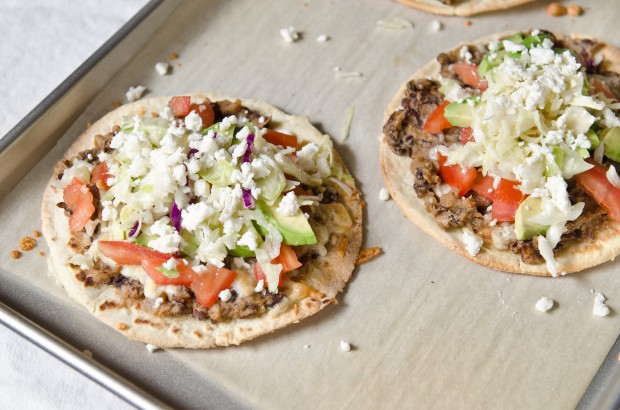 To start the week off right, I'd like to share a delicious vegetarian dish from Mexico – Tlayudas (sometimes spelled Clayudas) which is a Mexican antojito (snack food) akin to mini pizzas. The Oaxacan specialty is traditionally made with a crunchy flour tortilla crust, a sauce of refried beans, meat and then topped with fresh sliced cabbage, avocado and Oaxacan cheese. For this vegetarian version, I topped my favourite homemade flour tortillas with some refried beans and monterey cheese then baked the tlayudas until slightly crisp . I then garnished them with fresh, diced tomatoes, creamy avocados, salty cotija cheese (or feta cheese) and a simple cumin-lime slaw. So so so delicious! Very fresh, but incredibly filling! I can honestly say, this is one of the best dishes we've made at home in quite some time.
On a side note, I am so excited for the new season of Mad Men! Now that we are done Downton Abbey, there has been a huge void in our daily lives. *hehe* Thankfully Mad Men should fill such void until Downton airs again in the fall.
Wishing you all a wonderful Monday. xo
 Ingredients
8-6 inch homemade flour tortillas or store-bought flour tortillas
1 recipe of quick vegetarian refried beans (recipe to follow)
cumin-lime coleslaw (recipe to follow)
2 tomatoes, diced
2 avocados, sliced
1 cup of reduced fat cheddar cheese, monterey jack cheese or oaxaca cheese OR Daiya vegan cheddar shreds
1/4 cup of cotija cheese or feta cheese (optional)
Note: You can use  Amy's Vegetarian Refried Beans in lieu of the homemade refried beans. They are delicious!
Method
1. Preheat oven to 450'F. Line two baking sheets with parchment paper.
2. Spread flour tortillas with the the quick refried bean mixture then sprinkle with monterey, cheddar or oaxacan cheese. Place pans in over and cook  for 5 minutes, or until the edges of the flour tortillas begin to turn golden and the cheese is melted. The tortillas will be slightly crispy. Remove pans from oven.
3. Garnish each tlayuda with fresh diced tomatoes and slices of avocado. Top with some cumin lime coleslaw and a small sprinkle of cotija or feta cheese.
Yield: 8 servings
Source: lightly adapted from Vegetarian Times [Everything Vegan]
Quick Vegetarian Refried Beans
In a saucepan over medium-high heat, sauté a small onion (diced) in 1 tablespoon of canola oil. Sauté for 5 minutes. Add 2 cloves of garlic minced, 1 teaspoon of cumin and 1 teaspoon of ancho chili powder. Heat through and then add two (15ml) cans of organic black beans and 1/4 cup of water.  Cook the beans with the spices and onions for 5 minutes and then mash with a wooden spoon or potato masher. Set aside.
Cumin Lime Coleslaw 
In a small jar, combine 2 tablespoons of fresh lime juice, 1 tablespoon of canola oil, 1 teaspoon of sugar and 1/2 teaspoon of ground cumin. Season with a pinch of salt. Shake to combine. In a medium bowl, combine 2 cups of shredded cabbage with 2 tablespoons of freshly chopped cilantro. Drizzle dressing over the cabbage and mix well.