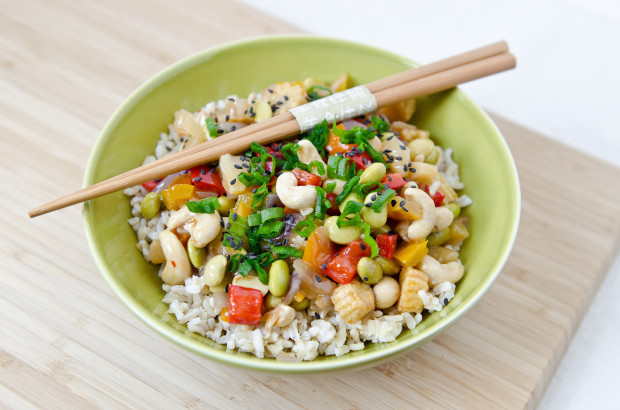 Ever since I started my elimination diet in early February, I've had to make almost every single meal at home. I'm not complaining. I'm a food blogger – so, of course I love to cook. But after a long day at work, it can be a bit tiring (read: daunting) to cook a meal that's well-balanced, filling and loaded with natural, wholesome ingredients.  This is where a recipe like Sweet and Sour Vegetable Stir-fry comes in handy! It takes about 25 minutes to throw together and is filled with protein, fibre and a healthy dose of veggies. Plus, it's vibrant and full of flavour.
A time saving tip – make the brown rice on the weekend, so that you have it in the fridge to use throughout the work week. I pre-cook brown rice on the weekend and use it on a weekly basis for stir-frys, curries, soups, burritos and even salads.
In other news, we decided to resume our organic fruits and veggie delivery this week. Fresh Option Organic Delivery is a fantastic option for your organic fruits and veggies in the Winnipeg area. I highly recommend it. Yesterday, we received our first delivery. The allotment included the most delicious, fresh strawberries! I cannot wait to make something with them this weekend. Muffins? Shortcakes? Smoothies?
Wishing you all a wonderful weekend! I'm looking forward to a relaxing weekend of reading, baking and maybe some cleaning. Hmmmm…probably not cleaning. *haha* If it decides not to snow after all, I may even go for a nice long walk outside. *fingers crossed for nice weather*
Vegetarian Sweet & Sour Stir-fry
Ingredients
1 tablespoon of canola oil
1 medium yellow onion, finely diced
1 red pepper; diced
1 orange pepper; diced
1 cup of frozen shelled edamame
1 cup of baby corn, cut into bit-size pieces
2 tablespoons of tamari or sodium-reduced soy sauce
1 tablespoon of unseasoned rice vinegar
1 teaspoon of freshly grated ginger
1 teaspoon of chile-garlic sauce (or more for added heat)
1 tablespoon of sesame oil
1 tablespoon of honey or agave (optional)
1 tablespoon of cornstarch or arrowroot power
1/2 cup of vegetable broth
1-14 oz can of pineapple tidbits with juice
3/4 cup of unsalted cashews (toasted if you like)
2-4 cups of brown rice, cooked
fresh green onion; chopped
black sesame seeds for garnish
Method
Prepare brown rice according to package and chop all of the veggies.
Heat canola oil in in large saucepan over medium-high heat. Add diced onions and sauté until tender and translucent (about 5 minutes).
Add the diced red and yellow pepper. Sauté another 5 minutes. Add the shelled edamame and baby corn. Reduced heat to medium.
While the vegetables are cooking, make the stir-fry sauce. In a small bowl, combine the tamari, unseasoned rice vinegar, fresh ginger, chile-garlic sauce, sesame oil, honey (or agave) and vegetable broth. Whisk in the cornstarch or arrowroot power until well combined.
Pour the stir-fry sauce over the sautéed veggies. Stir until the sauce starts to thicken (about 2 minutes).
Add the pineapple tidbits with the pineapple juice followed by the unsalted cashews. Heat through.
Serve the sweet and sour stir-fry over a bed of brown rice. Garnish with fresh chopped green onion and sesame seeds.
Note: I normally don't add any sweetener to the stir-fry sauce, as I find the pineapple juice does the trick! But feel free to add some honey or agave if you need an extra touch of sweetness.
Source: The Fig Tree