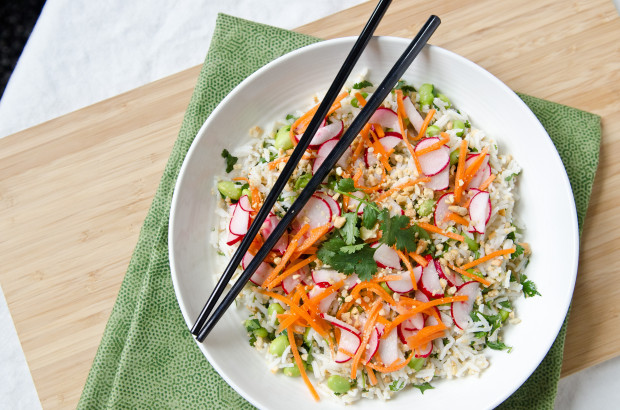 It's no secret – I adore salads. I've posted tons of salad recipes on The Fig Tree. I'm a sucker for salads filled with delicious, crisp greens and fresh chopped veggies. And even sometimes some fruit. But every now and again, I get bored of the same old green salad. Sometimes I crave something a little more hearty – something with beans, nuts and/or cooked grains such as quinoa, couscous, barley, millet, kamut, farro or rice.
Ever since I made this Creamy Herb & Cucumber Salad, I've been completely smitten with rice salads of all kinds. They are perfect for work lunches and light, but satisfying dinners. They are great for potlucks, picnics and BBQs too! Plus they are incredibly easy to throw together. The rice acts as a blank canvas for so many great flavour combinations! This salad is just plain yummy. It's fresh and vibrant with a great combination of sweet, sour, spicy and salty flavours. The homemade pickled radish and carrots really make this dish. They give the perfect bite! The crushed cashews give the salad a lot of texture and the edamame boosts the protein content along with the avocado that lends the perfect amount of creaminess.
Wishing you all a wonderful weekend! I am off to the annual local Jazz Festival this weekend! Lots of free shows going on downtown. Cannot wait! Plus, I'll be attending a birthday party, a graduation party, a Zumbathon, a BBQ, a father's day brunch and gearing up for my birthday next week. Yikes! It's going to be a busy one, but we are trying to jam everything in before we head off on our European adventure next month. :)
Korean Rice Salad with Pickled Radish
Ingredients
1 carrot, julienned
1 cup of thinly sliced radishes (8 to 10 radishes)
2 teaspoons of sugar
1/4 teaspoon of salt
1/4 cup of unseasoned rice vinegar
4 teaspoons of canola oil or vegetable oil
1 tablespoon of fresh lime juice
2 teaspoons of fresh grated ginger
1 teaspoon of sesame oil
1/4 teaspoon of salt
1 cup of uncooked basmati rice or medium-grain rice
1/3 cup of chopped fresh cilantro or parsley
1/2 cup of finely chopped unsalted cashews
1 cup of shelled edamame
1 small red chile, finely sliced (optional)
1 avocado, diced
1 tablespoons of sesame seeds
Method
One hour before assembling the salad: in a small bowl, toss together the julienned carrot and radish slices. Sprinkle with 1 teaspoon of sugar and 1/8 teaspoon of salt. Allow mixture to stand for 10 minutes then rinse well with cold water.
Whisk together the rice vinegar, the remaining 1 teaspoon of sugar and 1/8 teaspoon of salt. Pour over the carrot/radish mixture and cover. Allow mixture to sit for about 45 minutes. Drain well.
Bring 2 cups of water to a boil. Add rice and reduce to a simmer. Simmer rice for 10-12 minutes then remove from heat and allow it to sit covered for another 10 minutes. Fluff with a fork. Allow rice to cool to room temperature.
For the dressing, whisk together the oil, lime juice, sesame oil, fresh ginger and salt. Pour dressing over the cooled rice. Add in the fresh chopped cilantro or parsley, pickled carrots and radish mixture, edamame, red chile slices and crushed cashews. Toss well to combine.
Right before serving, mix in the diced avocado. Sprinkle with sesame seeds.
Source: adapted from Canadian Living Magazine July 2014