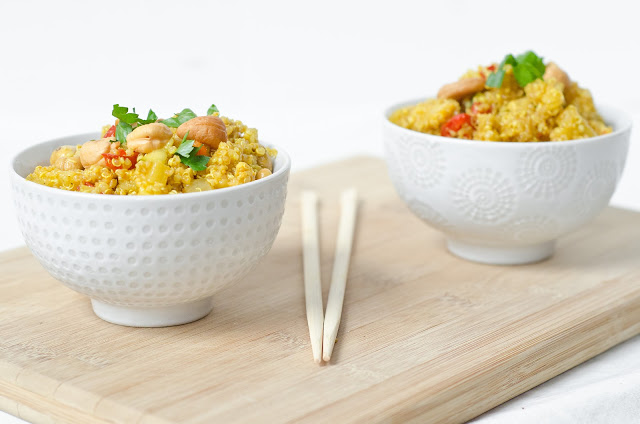 Looking for something to spice up your week? This curry bowl is your answer! *hehe* A delicious bowlful of fresh veggies and healthy quinoa infused with mildly spicy curry topped with crunchy cashews and fresh pineapple. Mmm! This is seriously one of the yummiest dishes I have tried in a long time. And even though the ingredient list may seem lengthly, it is a really easy meal to throw together. The quinoa can be cooked days in advance and you can use canned pineapple if you don't have time to slice up a fresh one (…the ARE a bit intimidating!)
Feel free to swap in your favourite veggies. And if you are not a fan of pineapple, you can easily add raisins instead. However, I must note, the pineapple and cashew combination really makes this dish. It can be served a protein-packed vegetarian main course or as a side dish. It can also be served at room temperature as a salad for summer picnics or BBQs.
Speaking of BBQs, Jesse and I had a BBQ with his sister Robyn and her boyfriend Louis on Monday. Robyn made a fantastic strawberry rhubarb pie for dessert. Yum!!! And I served up veggie kabobs and my favourite potato salad –
Spring Potato Salad with Fresh Dill
. I'll be posting the recipe for the veggie kabobs later this week. They were delicious, especially when served topped with some homemade chimichurri sauce. Along with the veggie kabob recipe, I'll be doing my first cookbook giveaway! So excited! :)
In my
last post
, I hinted about an announcement in regards to the blog. Nothing too major here folks :) I have just been thinking that I need to align my work on this blog with some personal goals. Therefore, starting next week, I'm planning on doing two special features per week!
The first feature is relating to my goal to eat more vegan meals on a weekly basis. You already all know about Meatless Mondays, right? Well, The Fig Tree will be hosting Vegan Tuesdays starting next week. I'll be showcasing vegan recipes of both the savoury and sweet variety.
The second feature has to do with my love of travelling and trying new foods. Everything Thursday, I'll be showcasing recipes with "global inspiration". We are going to travel the world together and sample food from each + every country.
 I am really looking forward to focusing on these two new features and hope you'll tune in :) I appreciate all of you who take the time to visit The Fig Tree on a regular basis. I'd like to know what you think! Please feel free to comment :)
Please contact me if you'd like to participate in either feature with a guest post.
 I'd love to have some contributors to mix things up a bit on the blog. If things go well with these two features, I'd like to add another one or two in the near future. In the end, it comes down to what you, my lovely readers want…and how motivated I am. *hah*
Hope you are all having a wonderful week! I know many places across Canada and the US are hitting extreme temperatures. What are you doing to stay cool?
Pineapple + Cashew Quinoa Curry Bowl
Ingredients
1 cup of uncooked quinoa; rinsed well
1 and 1/2 cups of water
1 tablespoon of canola oil
1 small onion, diced
3 cloves of garlic, peeled and minced
1 red pepper, diced
2 carrots, peeled and chopped
1 large zucchini, chopped
1 tablespoon of good quality curry powder
1 heaping teaspoon of chile-garlic sauce
1/2 teaspoon of ground coriander
1 cup of diced paneer or 1 block pressed tofu; diced
salt and pepper to taste
1 cup of fresh (or canned) diced pineapple
1/2 cup of vegetable broth
3/4 cup of unsalted roasted cashews
2 tablespoons of freshly chopped flat-leaf parsley or cilantro
Method
In a medium saucepan, bring the water and rinsed quinoa to a boil. Once boiling, reduce the heat to a simmer and cover. Cook on low heat for 15 minutes. Remove from heat and allow quinoa to sit for 5 minutes covered. Remove lid and fluff with a fork.
In a large saucepan, heat oil on medium-high heat. Sauté onions until they are soft and lightly browned. Add garlic and sauté for a minute or so. Add the peppers, zucchini and carrots. Sweat the vegetables for 5 minutes and then add the curry powder, coriander powder, and chile-garlic sauce. Add the vegetable broth to create a sauce. Season with salt and pepper.
Add the quinoa, pineapple pieces, cashews and tofu or paneer. Mix well. Heat everything through for 5 minutes at a simmer. Allow mixture to sit for about 10 minutes before serving. This will allow the flavours to develop. Note: Add more vegetable broth if the curry begins to get too dry. You want a consistency like a risotto, not a soup.
Garnish with fresh parsley or cilantro. Enjoy! :)
Source: loosely adapted from Chloe's Kitchen by Chloe Coscarelli