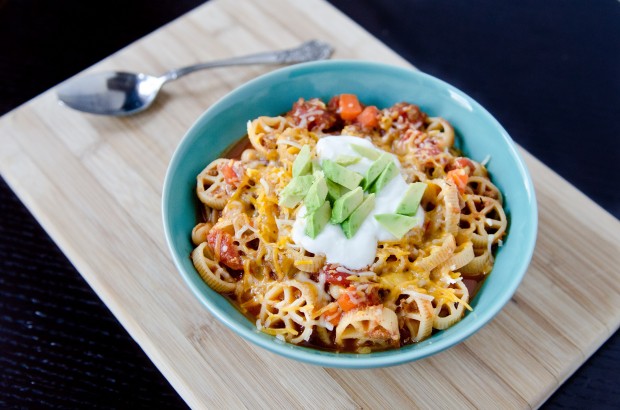 So…it snowed here AGAIN today. Seriously…this is getting crazy. Too much winter and not enough summer make Courtney go crazy. *hah* I'm longing for lounging on a patio and spending the day at the beach reading a good book. *sigh* Alas, the forecast states we will finally be in positive digits by the weekend. Fingers crossed!!! :)
Even though the snow made me a tad cranky today, this delicious veggie chili mac was perfectly warm and comforting. A few weeks back, my mom made this veggie chili mac for my dad, Jesse and me for Sunday dinner. We all loved it. Such a simple one-pot dish with so much flavour. I'm generally not a fan of vegetarian ground crumbles, but they worked perfectly in this dish to add some texture. The veggie crumbles and the beans made this dish a protein power house and was incredibly filling. This dish has become a go-to meal in our home. We've already made it a number of times. It's great if you are looking to have some left-overs available for lunches and such.
Hope you are all having a great week! Any plans for the upcoming weekend? If it's nice out, I plan on going for a few long walks. It's been too long since I properly spent time outside. We are also going out for dinner with some good friends on Saturday. And, i'm hoping to spend some time in the kitchen over the weekend as well. I have so many recipes I want to try and share  :)
Ingredients
1 pound of veggie ground
1 tablespoon of canola oil
1 small onion, chopped
2 ribs of celery, chopped
2 carrots, peeled and chopped
1 teaspoon of garlic powder
2 tablespoons of chili powder
1 teaspoon of ground cumin
1/2 teaspoon of dried thyme
1/4 teaspoon of ground black pepper
1-28 oz can of crushed tomatoes
1-28 oz can of diced tomatoes
1-19 oz can of white or red kidney beans, drained and rinsed
3 tablespoons of light brown sugar
2 tablespoons of vegan Worcestershire sauce (such as The Wizard's Vegan Worcestershire Sauce)
1 pound of whole wheat pasta (radiatore or your favourite fun-shaped pasta)
1 cup of shredded cheddar cheese or vegan cheddar cheese
sour cream or vegan sour cream
diced avocado
Method
In a large saucepan, heat canola oil over medium-high heat. Add onion, celery and carrots. Sauté until the onions are slightly translucent and soft (about 5 minutes).
Add vegetarian ground and break up with a wooden spoon. If using frozen vegetarian ground, sauté until cooked through (about 5 minutes).
Add garlic powder, chili powder, ground cumin, dried thyme and pepper followed by the crushed tomatoes and diced tomatoes. Bring mixture to a gentle boil and then reduce heat to a simmer.
Add brown sugar and vegan worcestershire sauce followed by the canned kidney beans. Simmer for 20 minutes.
While your chili simmers at a low-heat, bring a large pot of water to a boil. Cook noodles according to package instructions. Once pasta is al dente, drain the pasta and add to the chili. Remove from heat.
Serve the chili mac with a sprinkle of cheddar cheese or vegan cheddar cheese. Garnish with sour cream and avocado slices if desired.
Note: For my Canadian friends, I highly recommend using the President's Choice Blue Menu vegetarian ground crumble. In my opinion, it has great texture. Also, if you cannot find vegan worcestershire sauce, you can omit it or add a splash of apple cider vinegar to the chili.
Source: adapted from Canadian Living Magazine