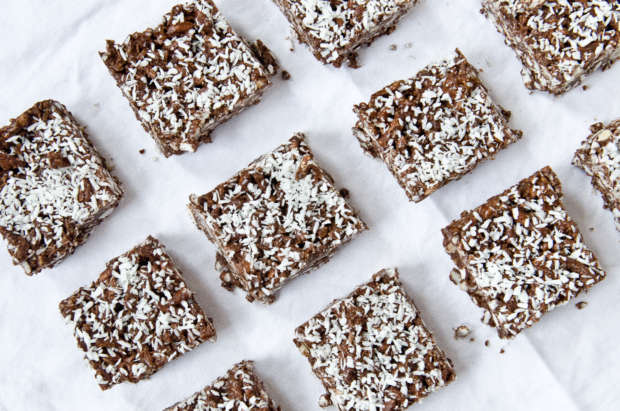 Just a quick post to say "Happy Mother's Day" to all of the lovely mommas, mommas-to-be and animal mommas out there! A very special happy mother's day goes out to my mom – the most beautiful woman, inside and out. Mom, I am so incredibly lucky to have you in my life. I count my lucky stars for being so blessed to have a mom like you. Thank you for always being so supportive, loving and always being there to make me laugh. You are my biggest cheerleader. Love you to bits! Lots of love to my wonderful grandma and to my amazing mother-in-law. I am so grateful to have such strong, caring women in my life :)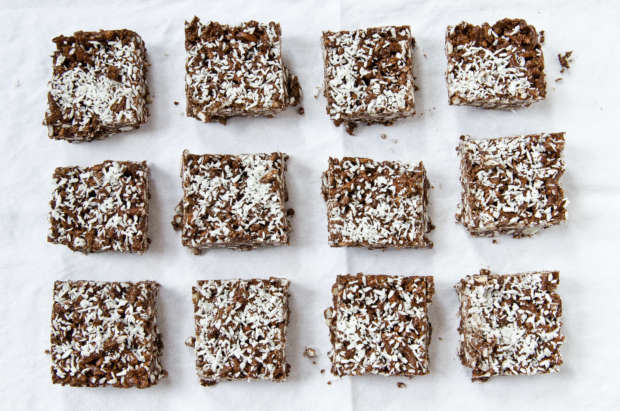 And now for chocolate! Chocolate with coconut!!! Crispy treats studded with macadamia nuts and seasoned with a touch of sea salt. These bars are so easy to throw together and will satisfy your sweet tooth and your salt cravings! They are the perfect, wholesome treat. Made with coconut oil and puffed brown rice, these little bites are a healthy dairy-free & gluten-free treat that everyone will love.
Crispy Coconut Chocolate Bars with Sea Salt
Coconut and chocolate paired together with wholesome puffed brown rice and buttery macadamia nuts topped with a pinch of sea salt. These bars are the perfect mix of sweet and salty and gooey and crunchy.
Ingredients
2 cups of diary free chocolate chips such as Enjoy Life brand
2 tablespoons of coconut oil
1 and 1/2 cups of unsweetened shredded coconut, divided
1/2 cup of macadamia nuts, chopped
2 and 1/2 cups of puffed rice such as Nature's Path Rice Puffs or brown rice crisps
Good pinch of fine sea salt
Method
Line an 8 inch square baking pan with parchment paper, so that the paper hangs over the sides of the pan.
Heat a small pot of water on the stove over low-medium heat. Melt the chocolate and coconut oil together in a double boiler.
Once the chocolate is thoroughly melted, remove from heat. Add in a good pinch of fine sea salt and mix to combine.
Add in 1 and 1/4 cups of unsweetened shredded coconut, chopped macadamia nuts and the puffed/crisped rice. Mix well.
Pour the mixture into the prepared baking pan. Press mixture down with the back of a wooden spoon. Top with the remaining 1/4 cup of shredded coconut.
Chill for an hour. Using the parchment paper handles, pull the chilled mixtures onto a large cutting board. Using a large knife, cut into 16 squares. Bars must be stored in the fridge.
Source: The Fig Tree