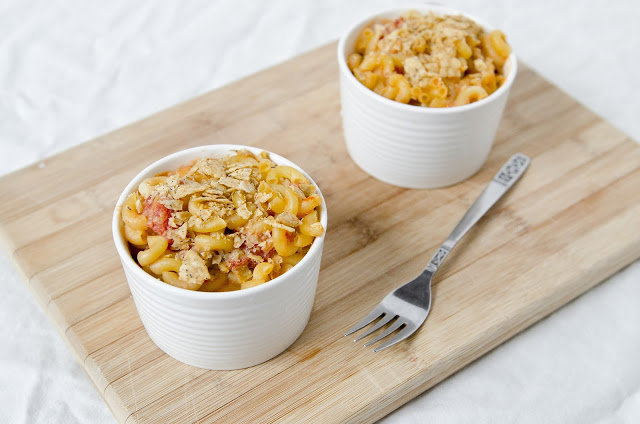 Hello and happy new year! Hope you all had a wonderful time ringing in 2013. We had a nice quiet night with some friends on New Years Eve. New Year's Day, we met some friends for lunch to celebrate the new year. It was great catching up with some close friends from out-of-town. And, in the evening, my sister had us over for a fantastic meal. My dad insisted we have an ice cream sundae party to end dinner last night – which I definitely agreed to. We had plain vanilla ice cream with fresh fruit, nuts, and yummy chocolate sauce. It was a really fun idea. A
 lovely way to start the new year.
Another great way to start the new year is to make this extremely delicious macaroni and cheese infused with Mexican flavours. It's one of my very favourite dishes with some of my very favourite ingredients – lime, cumin and cilantro. And cheese! It's a little spicy but perfectly creamy and satisfying. The whole grain taco chips on top add a really nice crunch to the mac n cheese. This dish is highly addictive and the epitome of comfort food – especially when it's so darn chilly outside these days! Brrrr!
I'll be back in a few days with a lighter dish. After overdosing on sweet over the holidays, I've been craving fresh fruits and veggies. I'm sure a lot of you feel the same way. I'm hoping to share a delicious main course salad over the next few days. Stay tuned :)
Ingredients
1 pound of dried macaroni noodles

1 tablespoon of olive oil or canola oil

1 medium onion, chopped

1 jalapeño, seeded and diced (optional)

3 cloves of garlic

1-28 ounce can of diced tomatoes (or 12 tomatillos, husked and chopped)

1 teaspoon of ground cumin

1 tablespoon of honey

juice of half a lime

handful of cilantro

3 tablespoons of butter

3 tablespoons of flour

1 cup of vegetable stock

2 cups of skim milk

salt and pepper to taste

2 cups of monterey jack cheese or cheddar cheese

1 cup of crushed whole grain tortilla chips
First, make the tomato/tomatillo salsa: 
1. Place garlic in a food processor and process until it is finely chopped. Add the onion + jalapeño and process. Add the canned tomatoes or tomatillos and process until chunky. 
2. Add the olive oil or canola oil to a medium sauce pan over medium heat. Add the tomato or tomatillo mixture and warm through. Add the cumin, salt, pepper and honey. Simmer for 10 minutes on low. Add the cilantro and lime juice.
Second, make the cheese sauce + boil the noodles:
1. Preheat the oven to 350'F. Bring a large pot of water to boil. Salt the water well.
2. Meanwhile, melt the butter in a medium saucepan over medium heat. Whisk in the flour and cook for a minute. Whisk in the vegetable stock and the milk. Season with salt and pepper. Cook for about 5 minutes or until the sauce begins to thicken up. Add the monterey or cheddar cheese.
And finally, put it all together + bake:
1. Drain the pasta and toss with the cheese sauce. Place half of the noodles in a 9 x 13 baking dish and top with half of the salsa. Spoon remaining noodles on top and then the remainder of the salsa. Top with the crushed chips and bake for 15 minutes. Once cooked through, put the broiler on to toast the chips on top. 
Serve with sour cream, extra salsa or fresh guacamole.
Note: I often make this mac n cheese and put it into 8 different ramekins rather than one large pan. This allows me to control portion size a bit better. When it comes to mac n cheese, I often over eat. So individual portions are nice in this case.
Yield: 6-8 servings
Source: adapted from a recipe from Rachel Ray