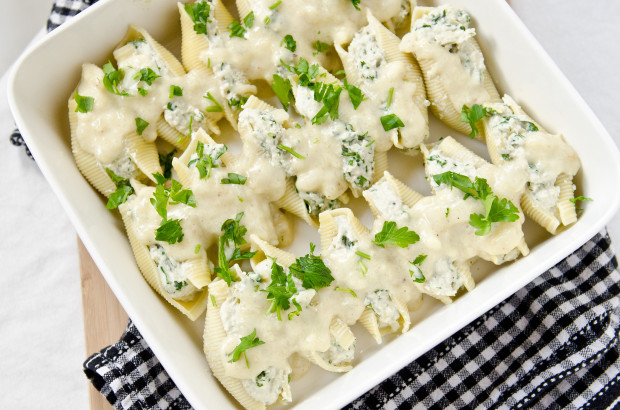 Somehow we skipped from the worst winter in decades straight to…summer! This week has been lovely. One of my very favourite things is warm evenings where you can just lounge outside for hours on end. Jesse and I did that this week. After dinner each evening this week, we went for a bike ride and then sat outside on the deck for hours reading and chatting. Blissful. Can it be this warm and beautiful all year round? It's funny though – I had all of these great seasonal, spring recipes to share this May on The Fig Tree, but now I feel like skipping straight to the summer recipes since it's so nice and hot out. *haha*
One spring recipe that I don't want to skip is this one here for Vegan Spinach and Artichoke Stuffed Shells with Béchamel. This is one delicious vegan main course! The shells are filled with an amazing, rich cashew ricotta flavoured with garlic, lemon juice, lemon zest and parsley. Diced artichokes and spinach are added to the cashew ricotta before the filling is spooned into the shells. A simple vegan béchamel with a pinch of nutmeg tops of the dish and then it's all baked to a golden, bubbly perfection and served. It's good. Really good. I just wish it has been less difficult to capture its deliciousness in a photo!
Wishing you all a wonderful weekend! What do you have planned? This weekend, we will attend Doors Open Winnipeg, visit a friend who's in from out-of-town and go on a bike ride or two. 'Til next time. xo
Vegan Spinach and Artichoke Stuffed Shells
Ingredients
1 and 1/2 cups of unsalted cashews, soaked in water for a minimum of 4 hours
1/4 cup of unsweetened almond milk
juice of one lemon
zest of one lemon
2 cloves of garlic
1/4 cup of finely chopped flat-leaf parsley
1-14 ounce can of artichokes (not marinated); finely diced
4 cups of fresh spinach, finely chopped
salt and pepper to taste
16 jumbo pasta shells
1/4 cup of vegan butter (such as Earth Balance)
1 small onion, diced
3 cloves of garlic, minced
1/4 cup of arrowroot powder or corn starch
2 cups of unsweetened almond milk
1 tablespoon of nutritional yeast
salt and pepper to taste
a pinch of nutmeg
Method
Drain cashews. Preheat oven to 350'F.
Cook pasta shells in salted water according to package until al dente. Once shells are al dente, drain and rinse with cold water to stop cooking. Set aside.
Meanwhile, in a blender, purée the cashews, 1/4 cup of almond milk and 2 cloves of garlic until smooth. Add additional almond milk as needed to create the consistency of a creamy ricotta. Pour cashew ricotta into a medium bowl. Mix in the lemon juice, zest of one lemon, flat-leaf parsley, diced artichokes and finely chopped spinach. Season with salt and pepper.
In a saucepan over medium-high heat, melt the vegan butter. Add the diced onion and sauté for 5 minutes, or until soft and translucent. Add minced garlic and sauté another minute. Sprinkle onions and garlic with the arrowroot powder or corn starch. Stir to form a paste. Whisk in the almond milk followed by the nutritional yeast and salt and pepper. Reduce heat to low and cook for another minute or so (until the sauce thickens up nicely). Add a pinch of nutmeg.
Prepare a baking dish with a few scoops of béchamel sauce at the bottom. Using a a piping bag or a small spatula, fill each shell with about 2 tablespoons of filling. Note: My preference is using a piping bag, as it makes filling the shells much easier and less messy. Place shells into the baking dish. Top with the béchamel sauce.
Bake shells for 20 to 25 minutes, or until slightly brown and bubbly. Serve and enjoy!
 Source: The Fig Tree
cashew filling inspired by Love & Lemons; vegan béchamel adapted from Veggieful