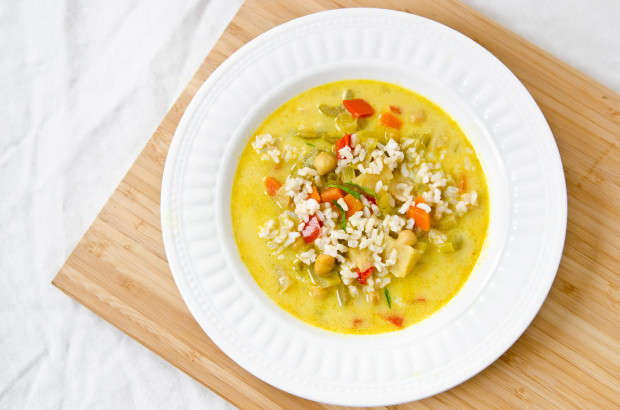 Mulligatawny soup always reminds me of Seinfeld. Speficially the Soup Nazi. Do you remember the episode where Elaine goes for soup and orders a bowl of Mulligatawny soup at Kramer's recommendation? She promptly annoys the owner and is told "NO SOUP FOR YOU!" Hilarious. Seinfeld was/is pretty fantastic. And so is this soup!
"Mulligawtany' is a combination of two Tamil words – pepper and water. Normally this dish contains chicken, beef, or pork and is thickened with rice. However, for this delicious vegetarian/vegan version, I used chickpeas in lieu of the meat. Instead of the usual addition of cream, I have subbed low-fat coconut milk. For my take on this soup, I used celery, carrots and red peppers in the way of veggies. However, you could add any of your favourites. Cauliflower would be a delicious addition! As would be some diced butternut squash, sweet potato, zucchini or even some wilted greens. You could be equally creative with garnishes. You could top this soup with yogurt, chopped fresh cilantro, some mango chutney, golden raisins, chopped cashews, slivered almonds or dried shredded coconut.
The key to this delicious soup is browning the onions before adding any other flavours. Fresh ginger and coconut milk are also key. They really make this soup something special. Allowing the soup to simmer for at least 30 minutes is crucial to allow the flavours to develop. This soup is slightly spicy but has a touch of sweetness from the diced apple. It's creamy, savoury and incredibly satisfying. And it smells fantastic while cooking!
Hope you are all having a great week! Sending my well-wishes to those in Eastern Canada who are battling a huge blizzard today. Winter clearly did not get the memo in Canada. Winter – we are so done with you!
Ingredients
1 tablespoon of canola oil
1 medium onion, finely diced
1 tablespoon of curry powder
1 teaspoon of ground cumin
1/2 teaspoon of ground coriander
1/2 teaspoon of turmeric
4 cloves of garlic, minced (or 1 teaspoon of garlic powder)
1 tablespoon of fresh grated ginger
1 red jalapeño; finely diced
2 carrots, peeled and diced
6-8 stalks of celery, diced
1 red pepper, seeded and chopped
4 cups of vegetable broth
2 bay leaves
1 large apple, peeled and diced
1-15 ounce can of chickpeas; drained and rinsed
salt and pepper to taste
1-13 ounce can of unsweetened coconut milk (low-fat is fine)
2 tablespoons of fresh lemon juice
2 cups of brown basmati rice or jasmine rice, cooked
Garnish Ideas: fresh chopped cilantro, dollop of yogurt, chopped cashews, mango chutney, golden raisins
Method
In a large pot, heat canola over medium heat. Add onions and sauté for 7 minutes (or until the onions are starting to brown).
Add the grated ginger and diced garlic to the onion. Sauté for another minute or so. Add the carrots, celery, jalapeño and red pepper. Sauté another 5 minutes (or until the celery and carrots are slightly tender).
Add the curry powder, turmeric, ground cumin and ground coriander and stir.
Stir in the vegetable broth, diced apple, chickpeas and bay leaves. Turn the heat up to high. Once the soup is boiling, reduce to low and allow the soup to simmer for 35 to 45 minutes (or until vegetables are tender and flavour well-developed). Season with salt and pepper to taste. Note: while the soup is simmering, cook jasmine rice or brown rice basmati rice according to the package.
Right before serving, stir in the coconut milk and the lemon juice. Heat through.
To Serve: scoop 1/2 cup of rice into each bowl and ladle soup overtop. Garnish as desired.
Source: adapted from Fresh from the Vegan Slow Cooker by Robin Robertson