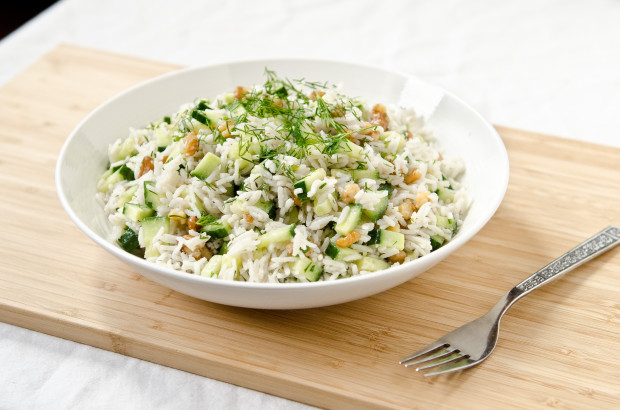 I have a delicious secret for you on this fine Friday afternoon. The perfect way to end the week. Prepare yourself, as I'm about to blow your mind. Okay…here it is…Did you know that adding a bit of tahini (sesame paste) to your dressing can yield a luscious and creamy dressing without any diary!? It's true! Okay, maybe that's not the most exciting news to end the week, but it's a nifty trick that I wanted to share with you. As much as a love mayo and creamy mayo-based salads, they can sometimes be too heavy.
When I envisioned this salad, my goal was to make a refreshing rice dish with a light & creamy dressing with tons of fresh herbs. Mint and dill were my weapons of choice. I'm not sure anything is more refreshing than fresh mint! I opted to add some cooling cucumber along with some toasty walnuts for added texture. Some fresh lemon juice finishes off the salad nicely. This salad would be ideal for spring and summer BBQs and picnics. Feel free to add some chopped kale to up the nutrition factor for a healthy, filling week day lunch.
Have a brilliant weekend everyone! xo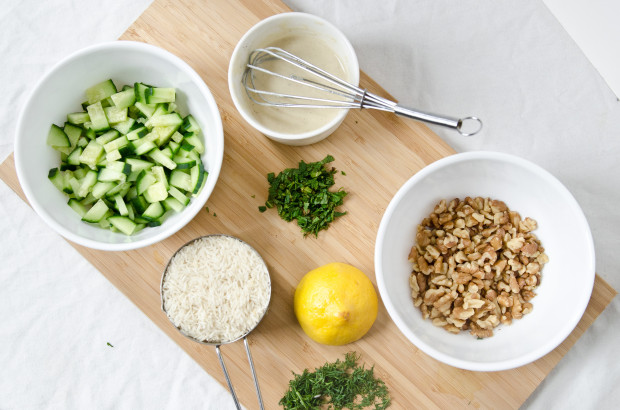 Creamy Herb & Cucumber Rice Salad
Ingredients
1 cup of uncooked long-grain white rice such as Basmati
2 cups of water
1 medium English cucumber, diced
1 cup of walnut pieces
1 heaping tablespoon of fresh chopped dill
1 heaping tablespoon of fresh chopped mint
juice from 1/2 a lemon
2 tablespoons of extra-virgin olive oil
1 tablespoon of apple cider vinegar
1 tablespoon of tahini
1/2 teaspoon of salt
1/8 teaspoon of pepper
1/2 teaspoon of sugar, honey or agave
juice from 1/2 a lemon
Method
Cook rice according to package instructions. Note: 1 cup of uncooked rice in two cups of water should yield 4 servings of cooked rice. Once rice has finished cooking, spread it onto a baking sheet and place in fridge for 10 minutes to cool.
While the rice is cooking, heat a small frying pan over medium heat. No need to add oil, as a dry pan toasts nuts perfectly. Add walnuts. While stirring every so often, toast the walnuts until fragrant and warmed through (about 5 minutes). Put aside.
To make the dressing, combine the olive oil, apple cider vinegar, tahini paste, sugar, salt, pepper and juice from half a lemon. Whisk well until nice and creamy.
In a large salad bowl, combine the cooled rice, toasted walnuts and diced cucumber. Sprinkle with fresh herbs. Drizzle salad with the dressing and mix well to combine. Finish the salad off by squeezing the other half of the lemon over the salad. Allow salad to sit at room temperature for 10 minutes to allow salad flavours to develop.
Source: The Fig Tree