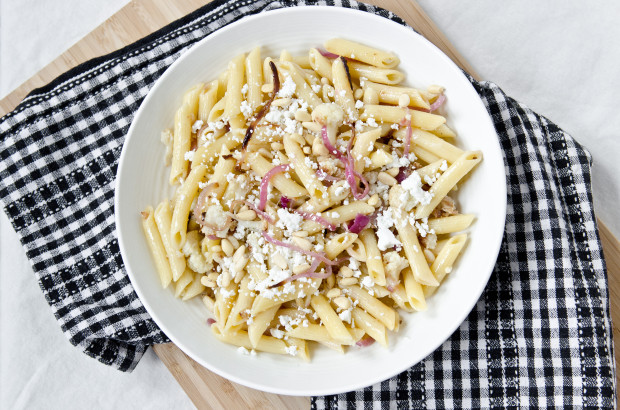 Today, I spent the entire day reading a book that I just could not put down. I started it this morning and finished it this evening. It was the perfect way to spend yet another chilly, snowy day. The book I read is called Reconstructing Amelia and is written by Kimberly McCreight. It is a mystery that very much reminded me of a TV show I really enjoy called The Killing. Or Broadchurch. Has anyone seen Broadchurch? Awesome TV show from the UK! Anyway, in the novel, a young high school student is found dead. It appears that she has jumped to her death from the top of her high school building. However, as you move through the book, you learn more and more about the characters surrounding the death and the circumstances that lead up to it. I could not help but push through to find out what happened in the end. I wanted to know if my guesses as to "whodunnit" were right. Addictive!
And what does any of this have to do with a roasted cauliflower and onion pasta? Well, I didn't even want to cook dinner tonight! I just wanted to keep reading. So, I literally popped the veggies to roast in the oven, put a pot of water to boil on the stove and then stood in the kitchen with my nose in a book while dinner cooked. So, needless to say, this meal is easy enough that you can finish a novel while cooking it! *hehe* It's also a delicious meal. Definitely a favourite in our household. I love the combination of the roasted cauliflower and red onion. The red onion caramelizes perfectly in the oven and lends so much flavour to the dish. The roasted garlic gets whisked right into the dressing that consists of lemon, olive oil, dijon mustard and honey. So flavourful. Finish off the pasta with some goat cheese feta and some toasty pine nuts. Some fresh parsley also adds some freshness. The pasta may just be as addictive as the book I powered through today. And almost as satisfying! :)
Have you read any good books lately?
Roasted Cauliflower & Red Onion Pasta
Ingredients
1 pound of penne (whole wheat or gluten-free)
1 medium head of cauliflower, cut into small florets
1 large red onion, thinly sliced
2 and 1/2 tablespoons of olive oil
salt and pepper
4 cloves of garlic, unpeeled
juice of one lemon (about 1/4 cup of fresh lemon juice)
1/4 cup of olive oil
1 tablespoon of dijon mustard
1 tablespoon of honey
salt and pepper to taste
1/2 cup of feta cheese
1/4 cup of pine nuts
fresh chopped Italian parsley
Method
Preheat oven to 400'F.
Place cauliflower florets and red onion slices in a large bowl. Drizzle with 2 tablespoons of olive oil and season with salt and pepper. Toss to coat evenly. Pour the cauliflower/onions onto a baking sheet. Roast in the oven for 25 minutes (or until the cauliflower has browned nicely). Note: toss the roasted veggies halfway during cooking time to ensure even roasting.
Place 4 cloves of garlic on a piece of tin foil. Drizzle with 1/2 tablespoon of olive oil. Wrap the garlic in the tin foil and place in the oven with the cauliflower and onions. Roast garlic alongside the cauliflower/red onion for 25 minutes (or until soft).
Meanwhile, cook penne according to package to al dente.
In a small mixing bowl, whisk together the lemon juice, 1/4 cup of olive oil, honey, dijon, salt and pepper.
Once the garlic has finished roasting, remove from the oven and allow the cloves to cool slightly. Squeeze each clove to release the carmelized garlic. Mash the cloves with a fork. Whisk garlic into the dressing.
In the same large bowl used earlier, combine the cooked penne, the roasted cauliflower & onion, and the dressing. Sprinkle with pine nuts and feta. Toss to combine.
Garnish with fresh chopped parsley. Serve hot or at room temperature as a pasta salad.
Source: The Fig Tree (inspired by Two Peas & Their Pod)