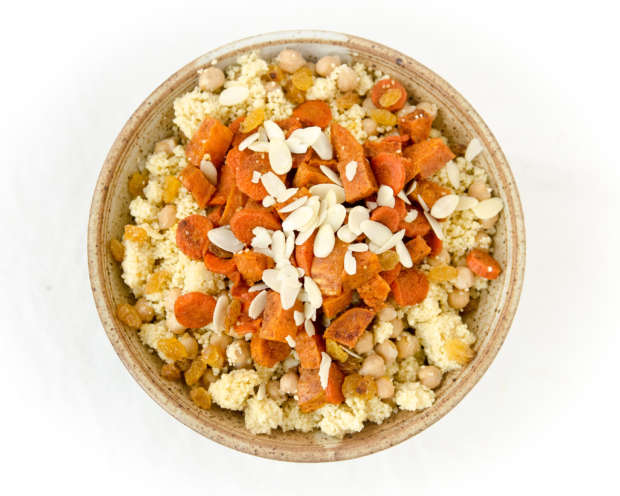 Today I would like to take you to Morocco +  share one of my favourite dishes to make during the week. I love it not only because it's full of flavour and has wonderful texture. I also love it because it's so very easy and takes no time to make! There is very little hands-on time with this dish, which I really appreciate after a long day of work. You just pop the seasoned veggies in the oven to roast, make a quick batch of couscous (ie. as quick as boiling a pot of water) and top with golden raisins, pine nuts (or almonds) and caramelized onions. If I'm really running low on time, I skip the caramelized onions and this dish is still amazing. They key to making this dish a real show-stopper is seasoning the vegetables with Ras el Hanout spice blend. Ras el Hanout is a blend of spices often including cumin, ginger, cinnamon, coriander, cayenne pepper, saffron, cloves and nutmeg. The combination of spices are perfect.
Friday Favourites will resume next week. I just could not wait to share this dish with all of you! Wishing all of my wonderful readers a happy International Women's Day. May there be peace, respect and equal opportunity for all. May each and every woman across the world have access to education, proper health care, security and the freedom to exercise her own human rights.
Cheers to strong, influential women around the world! Which woman inspires you?
Ingredients
4 cups of sweet potato, peeled and cut into 1-inch cubes
4 carrots, peeled and cut into 1-inch cubes
2 parsnips, peeled and cut into 1-inch cubes (optional)
1 and 1/2 tablespoons of canola oil or olive oil
1 teaspoon of Ras el Hanout
salt and pepper to taste
1 and 1/4 cup of organic vegetable broth
1 cup of uncooked couscous (regular or whole wheat)
1-15 ounce can of chickpeas, rinsed and drained
1 tablespoon of olive oil or canola oil
1 small yellow onion, thinly sliced
1/4 cup of pine nuts or sliced almonds
1/4 cup of golden raisins
1 teaspoon of ground cinnamon
1 tablespoon of honey (or agave syrup)
Method
1. Preheat oven to 400'F.
2. In a small bowl, combine the sweet potatoes, carrots, parsnips with canola oil or olive oil. Toss to coat. Sprinkle ras el hanout, salt and pepper over the vegetables. Mix to distrubute seasoning. Place vegetables on a parchment-lined baking sheet. Bake for until vegetables are slightly browned and tender (about 25 minutes).
3. While vegetables are roasting, bring vegetable broth to a boil in a medium-sized saucepan. Add couscous. Remove saucepan from heat, cover and allow couscous to rest for at least 10 minutes. Fluff with a fork then slowly mix in the chickpeas. Re-cover.
4. While couscous and vegetables are cooking, heat 1 tablespoon of olive oil or canola oil in a small pan over medium-high heat. Sauté onions until browned (about 10 minutes). Add pine nuts or almonds and raisins. Cook another 2 minutes then sprinkle mixture with ground cinnamon.
5. Mound couscous in the middle of a neutral coloured serving platter. Place vegetables over the couscous. Spoon topping over the vegetables. Drizzle honey or agave over the dish and serve.
Yield: 6 servings (about 1 and 1/2 cups each serving)
Source: adapted from Cooking Light – January 2009