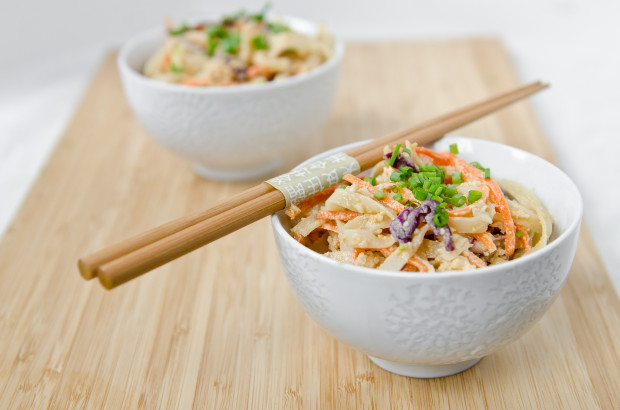 A few weeks ago, I mentioned that I'm on an elimination diet. At the time of my last post, I was just finishing the first month of the diet where I had to give up dairy, eggs, gluten, soy, chocolate, processed sugars, peanuts, oranges and corn. Now, I'm in the reintroduction phase of the diet. I've already added back dairy, gluten and soy. Gluten and soy were fine, but boy-oh-boy did dairy make me sick!!! I am so glad that I now know what has been making me feel so sick over the past few years. Although, I will likely focus on eating a vegan diet from now on, I will continue to post both vegetarian and vegan recipes on The Fig Tree. My husband will remain a vegetarian – so I can test recipes out on him! I'm sure he won't mind one bit.
Last weekend, my friend Kristen invited us over for a potluck. Knowing I was on an elimination diet, she asked me to bring something that I could eat. To be honest, I agonized over what to bring! Although I had discovered a ton of delicious allergen-free recipes over the first month of my elimination diet, I was still nervous that others may not be too keen on eating diary-free, gluten-free, etc. Literally an hour before dinner was to start, I threw this delicious cold thai noodle salad together. Thankfully, everyone at the potluck tried the salad and it got rave reviews. Phew!
Don't let the long ingredient list intimidate you. Even though there are a lot of ingredients, the recipe itself is very easy. And the result is fantastic! I love how the sauce is the perfect combination of sweet, spicy and savoury. The peanuts/cashews add some really nice crunch and the fresh herbs really takes this salad to the next level. I'm a sucker for Thai food, so this really satisfied my Thai-food cravings. Although I prefer this salad chilled, it's also really nice warmed up and used as a main course.
Chilled Thai Noodle Salad
Ingredients
1/2 cup of dried porcini or shiitake mushrooms
1/2 cup of boiling water
1/4 cup of tahini
1/4 cup of tamari (or sodium-reduced soy sauce)
2 tablespoons of sesame oil
2 tablespoons of canola or vegetable oil
2 tablespoons of unseasoned rice vinegar
juice of one small lime
2 teaspoons of grated fresh ginger
1 tablespoon of honey or agave
1 tablespoon of garlic-chile sauce (or more/less to taste)
8 ounces of rice stick noodles ( my favourite brand by President's Choice )
2 cups of shredded napa cabbage (or some coleslaw mix)
1 cup of grated carrot (I used a julienne peeler)
1 cup of snow peas; thinly sliced (or sub shelled edamame)
1/2 cup of unsalted peanuts or cashews; finely chopped
1/4 cup of chopped fresh cilantro (optional)
1/4 cup of chopped fresh Thai basil or regular basil (optional)
2 tablespoons of chopped fresh chives or greens onions
Method
Soak the mushrooms in boiling water until softened (about 10-15 minutes). Removed the mushrooms and reserve the soaking liquid. Squeeze the mushrooms dry then slice. Set aside.
Cook the rice noodles according to the package. Drain then rinse with cold water.
Combine the tahini, tamari/soy sauce, sesame oil, canola oil, rice vinegar, lime juice, ginger, honey, and garlic-chile paste in a small mixing bowl. Whisk in 1/4 cup of the reserved mushroom soaking liquid. If dressing is too thick, whisk in more soaking liquid. Taste and add more seasoning as required.
Combine the cooked rice noodles, sliced cabbage, grated carrots, slivered snow peas, mushrooms and dressing in a large salad bowl. Toss well to coat. Add fresh chopped herbs such as cilantro, Thai basil, green onions, chives and/or fresh basil and mix.
Sprinkle chopped peanuts or cashews over the top of the salad followed by a few more fresh herbs for garnish. Allow salad to sit for at least 20 minutes to allow flavours to develop.
Source: adapted from Canadian Living – Vegetarian Collection