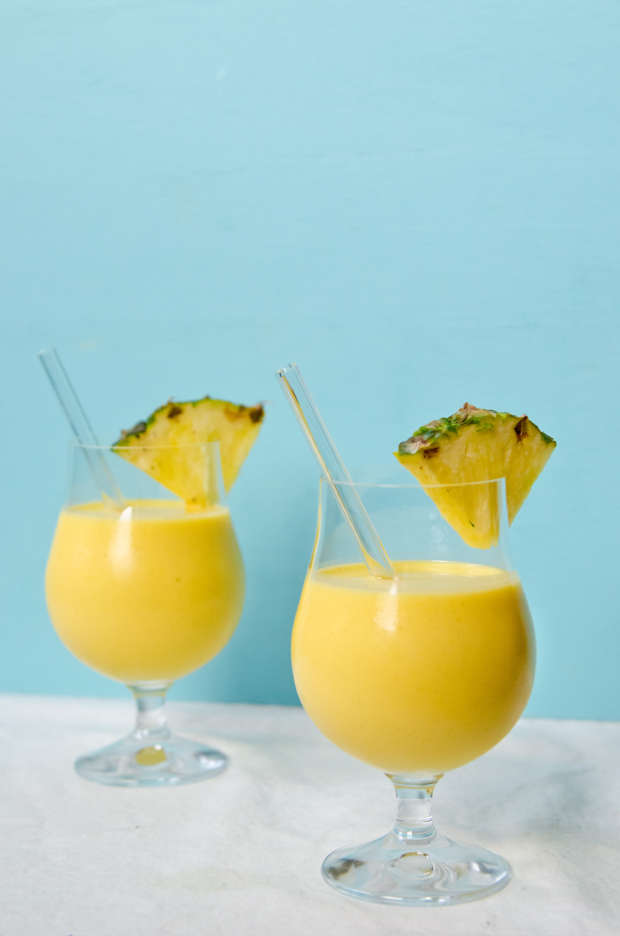 We always have a few bags of chopped frozen fruit in the freezer ready for smoothie-making. The one fruit I never go without is mango. It's my absolute favourite. It's creamy, juicy and has just the right amount of sweetness. In my opinion, mangoes are the best fruit for smoothie-making. This past winter, I spent two weeks in Hawaii. I'm not ashamed to say that I had one or two fresh mango smoothies each day that I was there. They were the best! Lanikai Juice – you nearly bankrupted me!
Recently, I went to make my usual mango smoothie for a snack when I decided to try something a bit different. I wanted something more like a lassi which is a thick, yogurt-based drink popular in India. A classic lassi is made with yogurt, water, and spices. However, it is becoming more common to add fruit to a lassi as well. To keep things dairy-free, I opted to use coconut milk and coconut milk yogurt. My favourite brand of coconut milk yogurt is by a Canadian company – Yoso. But I also recommend the So Delicious brand. To the lassi, I added some frozen mango chunks to make the lassi a delicious, icy treat perfect for summer. A splash of agave (or honey) sweetens the drink up nicely.  And, a pinch of ground cardamom really brings it all together and gives it a unique and addictive flavour.
Wishing you all a wonderful week. xo
Ingredients
2 cups of frozen mango chunks
2 cups of unsweetened coconut milk (such as So Delicious Coconut Milk)
1/2 cup of plain or vanilla flavoured coconut milk yogurt
1 to 2 tablespoons of agave or honey (to desired sweetness)
pinch of ground cardamom
Method
Add all ingredients to a powerful blender. Blend until smooth and creamy. Enjoy!
Source: The Fig Tree