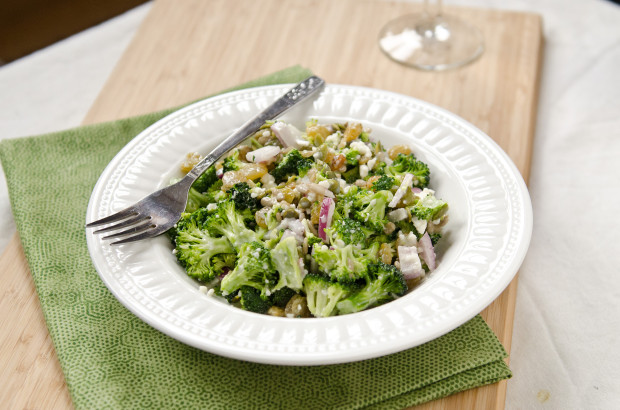 Recently, my book club members and I had our annual summer BBQ. My friend Cheryl was kind enough to host our BBQ potluck. All the members brought delicious food! I totally pigged out and probably gained 5 pounds by the end of the evening. *hah* We always joke that we are a food club first & book club second. We always have the best treats at our meetings!
One friend of mine brought a delicious oriental salad to our BBQ. Another friend brought taco dip; one of my weaknesses! We also had Death by Chocolate trifle for dessert (amazing!) and a delicious raspberry square topped with a fluffy marshmallowy topping. Mmmmm!
My friend Kerry brought a broccoli salad that ended up also being absolutely delicious. It had such a nice mix of textures and flavours. There is a creamy dressing, crunchy sunflower seeds, sweet golden raisins and salty feta cheese. A perfect combination! This is a great salad to bring to a BBQ and it definitely impressed at a picnic I attend earlier this week with my parents. Right mom and dad? :) Thanks again for a lovely afternoon!
Hope you are all having a wonderful summer!
Broccoli Salad with Feta and Golden Raisins
Ingredients
1 large bunch of broccoli; chopped into bite size pieces
1/4 cup of red onion; chopped
1/2 cup of golden raisins
1/2 cup of toasted sunflower seeds
1/2 cup of feta cheese; crumbled
3/4 cup of low-fat mayonnaise
1/4 cup of white sugar
2 tablespoons of white vinegar
1 tablespoon of fresh lemon juice
salt and pepper to taste
Method
For the dressing: combine the mayonnaise, sugar, lemon juice and vinegar together. Whisk well. Season with salt and pepper. Mix in the chopped red onion.
Put the broccoli in a large salad bowl. Top with the dressing. Add the feta cheese, sunflower seeds, and golden raisins. Mix well and cover. Note: Allow the salad to sit for about 2 hours in the fridge before serving. You want to allow the flavours time to develop.
This salad can be refrigerated overnight and will be good for about 2 days.
Source: my friend Kerry