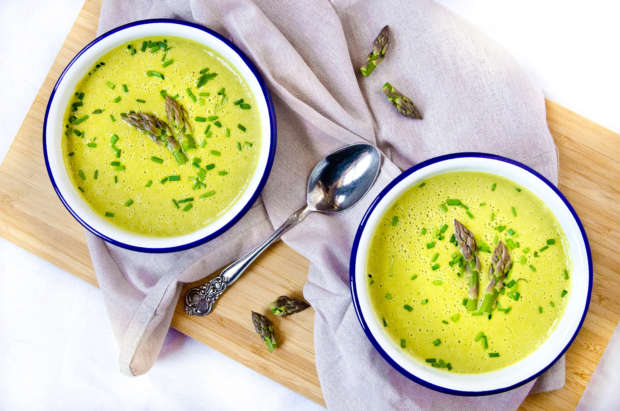 I may be a bit late to the asparagus game this spring, but you really cannot blame me. I mean, it snowed here yesterday in Winnipeg! It was a bit of a shock to the system. Spring hasn't truly, officially arrived here yet. This past Victoria Day weekend, Winnipeg experienced all four seasons in three days! It was pretty incredible. On Saturday, we had summer. It was beautiful – sunny and 21'C. Sunday was incredibly windy and rainy. It felt like a combination of spring and fall in one. And Monday, Victoria Day, it snowed and dropped below zero. So very confuzzling! I put away my winter coat and boots on Saturday only to have to get them out again on Monday. Thankfully, it looks like the weather is going to rebound slowly and spring/summer can finally make an appearance in the next week. Fingers crossed!
In protest of the crummy, snowy day yesterday, Jesse and I had a Star Wars marathon. We watched the original 3 movies. It was so much fun. I have not watched all three movies in a row in years. Now I cannot wait for the upcoming sequel by JJ Abrams. Is anyone else excited!?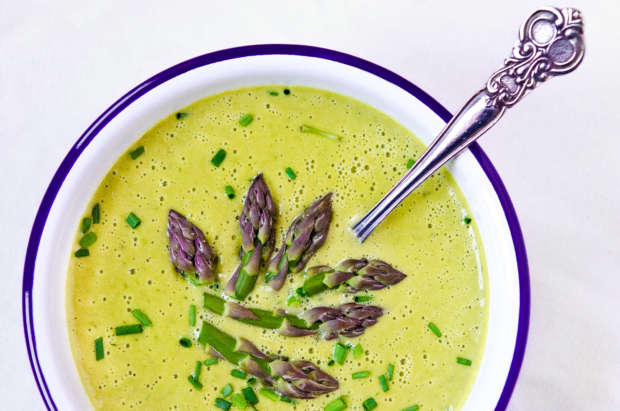 Also exciting is this flavourful asparagus soup that's filled with fresh herbs and bright lemon. I love when an idea comes together perfectly. Before I was a vegan, I used to make asparagus soup all of the time. It was filled with cream, yogurt and parmesan cheese. And it was delicious! I wanted to re-capture both the flavour and creamy texture of my favourite soup, but have it be cruelty-free. To create a luscious and creamy soup, I added 1/2 cup of soaked cashews to the soup while blending. To enhance the flavour of the asparagus (which is delicious in its own right), I added fresh lemon juice. Asparagus and lemon pair up perfectly together. Lemon brightens the soup right up! Season with a bit of salt, pepper and lots of fresh herbs and this soup is perfect! In fact, it's way better than the soup I used to make loaded with dairy. Now I can actually taste the fresh, grassy flavour of the asparagus in addition to all of the fresh herbs. Veggies never tasted so good! I think this recipe is a keeper! :)
Green Goddess Asparagus Soup
A creamy asparagus soup with fresh herbs and bright lemon juice - the perfect soup for spring. Enjoy with a piece of crusty bread and a small side salad for the perfect spring meal.
Ingredients
1 medium onion, diced
1 tablespoon of canola oil or extra-virgin olive oil
1 large bunch of asparagus, trimmed and chopped into 1-inch pieces (about 3 cups)
2 and 1/2 cups of low-sodium vegetable broth, divided
1/2 cup of soaked cashews (optional)
Juice of one medium lemon
1/4 teaspoon of fine sea salt
Pinch of black pepper
2 tablespoons of fresh chopped chives
2 tablespoons of fresh chopped dill or tarragon
1/4 cup of fresh chopped basil
1/4 cup of fresh Italian parsley
Method
In a large pot, heat the canola oil over medium-high heat. Add the diced onion and sauté until soft and translucent (5 to 7 minutes). Add in the chopped asparagus and sauté another 2 minutes.
Add 2 cups of vegetable broth to the pan and simmer over low-medium heat for 5 minutes, or until the asparagus is slightly tender. Remove from heat and allow to cool slightly.
In a blender, add the remaining 1/2 cup of vegetable broth, the lemon juice and the 1/2 cup of cashews. Blend for 1 minute, or until the mixture is smooth. Add in the onion/asparagus mixture with the broth. Purée for 30 seconds.
Add in the salt, pepper and fresh herbs. Blend another minute or so until the soup is creamy and smooth. Taste and season further if required. Re-heat soup in same pot if desired, otherwise it's quite good at room temperature. Serve with a crusty piece of bread.
Note: if you don't soak your cashews for at least 4 hours ahead of time, you can bring some water and the cashews to a gentle boil and cook for about 8 minutes.
Source: The Fig Tree