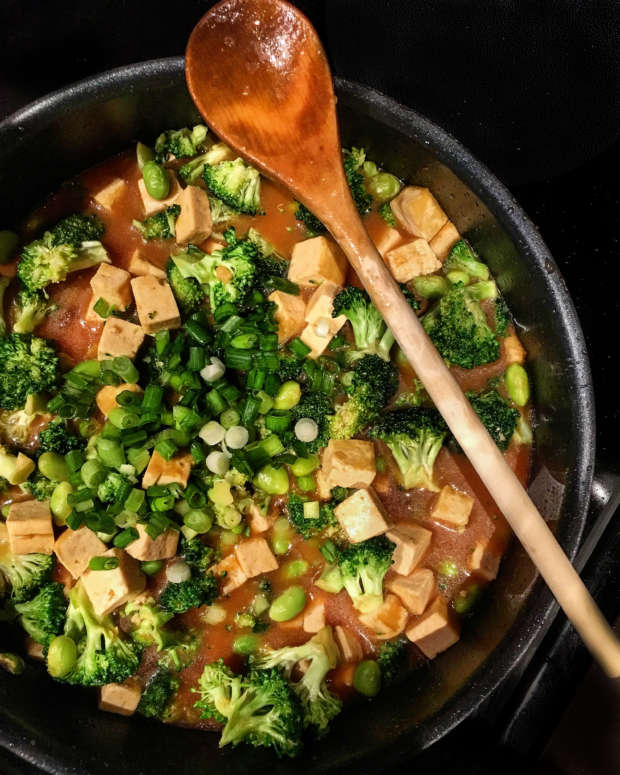 This is my husband's favourite meal. I make it once a week without fail. It's flavourful and packed with plant-based protein and green veggies. And it's easy to throw together! Served with brown rice, it really is the perfectly balanced meal. It has an ideal amount of fibre, protein and healthy fats. Plus the cashews are full of copper. Up until recently, I despised tofu, but this dish has convinced me that tofu can really be delicious – especially when sautéed in coconut oil and then covered in a slightly sweet & subtly spicy ginger orange sauce. Yum!
Throughout my studies with the Academy of Culinary Nutrition this fall, I have really learned the value of homemade sauces and condiments – where you can decide how much sugar, fat, salt is added. In making your own sauces, such as this Ginger Orange Sauce, you are ensuring you are not consuming artificial flavours, colourings and preservatives – all which can promote illness versus health. As an added bonus, creating your own sauces and condiments also means you can season your food in a way that appeals to you the most. And making your own sauces and condiments really doesn't take much time or effort at all. This Ginger Orange sauce takes minutes to make and has very limited ingredients – all natural and health promoting. What more can you ask for? :)
Ginger Orange Stir-Fry with Tofu
A quick & easy, protein-packed gluten-free, vegan dish perfect for busy weeknights. A good dose of veggies with lots of flavour.
Ingredients
1 cup of orange juice
1 tablespoon of fresh grated ginger
2 cloves of garlic
1/4 cup of coconut sugar (can substitute with brown sugar)
2 tablespoons of tamari or low-sodium soy sauce (gluten-free if needed)
1 tablespoon of rice wine vinegar
1/2 cup of water
1 tablespoon of arrowroot starch
2 tablespoons of unrefined coconut oil
1 black of organic extra-firm tofu, cut into 1/2 inch cubes
1 medium bunch of broccoli, cut into florets
1 cup of frozen edamame
1/2 cup of raw cashews
2 green onions, chopped
1 tablespoon of sesame seeds
4 servings of cooked brown rice
Method
Heat orange juice in a small saucepan over medium heat. Add in the ginger, garlic, coconut sugar, tamari and rice wine vinegar. Whisk well then allow the sauce to simmer over low heat for 10 minutes.
Meanwhile, in a large saucepan, heat coconut oil over medium-high heat. Add tofu and sauté for 5 minutes, or until the tofu starts to become slightly browned.
Add in the broccoli and edamame. Sauté another 5 minutes, or until the broccoli is slightly tender.
Whisk together the arrowroot starch and water. Add to the ginger orange sauce. Increase heat from low to medium while whisking continuously. Allow the sauce to cook another minute, or until the sauce thickens. Remove from heat.
Pour the sauce over the sautéed tofu and veggies. Add raw cashews. Mix well to combine. Remove from heat.
Garnish with chopped green onions and sesame seeds.Serve stir-fry over brown rice. Enjoy!
Source: inspired by Connoisseurus Veg