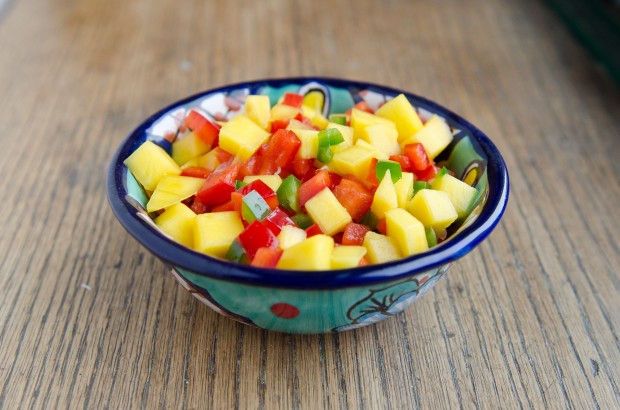 Mangoes are the kind of fruit you can enjoy year round. Throughout the year, different varieties are in season. And all are delicious. Some hail from Mexico (mainly in March to May). And some come from Florida, Haiti or Brasil – all at differing times of the year. I've heard that mangoes from the Philippines are the very best. However, whenever they are in stock at the local ethnic food market down the street, I never arrive in time to buy some before they sell out. They are a hot commodity around here! Maybe I need to plan a trip to the Philippines…
Alas, today I want to share a delicious mango salsa using mangoes from Mexico. And what better way to celebrate a cute little mango from Mexico than to make salsa with it? *hehe* This salsa goes great with baked taco chips. It's equally sweet to sour and has the right amount of heat. Even though salsa is seen more as a condiment for summer, it can easily be used in the winter as well. For instance, I like to add winter fruit salsas onto cheese + cracker plates. The perfect snack or appetizer. I also like to use salsa to top baked sweet potatoes or garnish hearty chilis.
In the next few days, I'll be sharing the perfect corn chowder to enjoy this mango salsa with. But in the mean time, I suggest making a batch of this to have ready in the fridge. I only caution you that it may not last long enough to make it to my next post.
Also, please note, I had mentioned that I would be posting a recipe where Ras el Hanout is the key ingredient. I will be posting the recipe soon. I made it last week to photograph and we ended up eating it all before I could snap some pictures. :)
Ingredients
1 semi-ripe mango, pited and cubed
1 red pepper, diced
1 small jalapeño pepper, finely diced (de-seeded to remove some of the heat)
juice of one lime (2 tablespoons of juice)
1 tablespoon of honey or agave syrup
2 tablespoons of freshly chopped cilantro (optional)
pinch of salt
Method
Combine all ingredients in a small bowl. Place in the refrigerator and allow salsa to sit for at least an hour to ensure the flavours come together nicely.
To Serve
Salsa with chips
Topping for cheese + crackers or crostini
A condiment for veggie burgers
Garnish for stews or chilies
Topping for a baked sweet potato
Source: loosely adapted from Peak of the Market