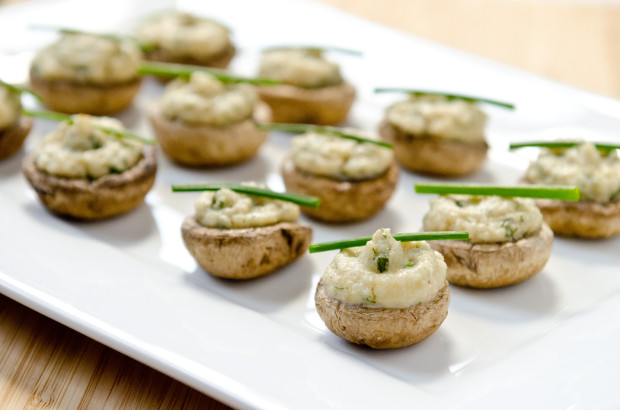 Throughout my elimination diet, people have consistently asked "if you've cut out gluten, processed sugar and dairy – what the heck are you eating!?" My response has been that I've never eaten better. Seriously…so much delicious food! Not only do I feel better having eliminated certain foods,  I am also a lot more creative in the kitchen. I've discovered so many ways to use plant-based ingredients to make incredibly delicious food such as these creamy, flavourful stuffed mushrooms! They are seriously the perfect appetizer. Mushrooms are filled with a cashew cream loaded with fresh flavours such as lemon, parsley and chives. Then, the mushrooms are baked until the filling is bubbly hot. Let me tell you – these little guys are incredibly addictive! They are rich, yet filled with bright flavours. They bake up nicely with the mushroom developing a light crust. They are an ideal finger food perfect for parties, BBQs, or even as a tasty side dish.
Wishing you all a wonderful weekend. Happy Memorial Day weekend to my American readers :) This weekend, I am hoping to do a lot of cooking and baking. Lots of recipes up my sleeve! Since the weather is FINALLY nice, I also hope to go for a few long walks, a bike ride and maybe some sangria out on a patio!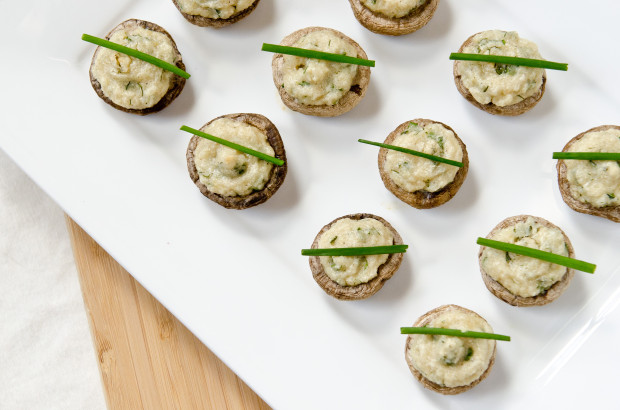 Creamy Lemon Herb Stuffed Mushrooms
Ingredients
24 large cremini mushrooms, washed and stems removed
1 and 1/2 cups of unsalted cashews, soaked in water for a minimum of 4 hours
1/4 cup of almond milk
2 cloves of garlic, grated on microplane
juice of one small lemon
1 teaspoon of lemon zest
1 tablespoon of olive oil
1 tablespoon of fresh chopped chives
1 tablespoon of fresh chopped dill
2 tablespoons of fresh chopped parsley
1/4 teaspoon of salt
1/2 teaspoon of pepper
Method
Preheat oven to 400'F.
Line a rimmed baking sheet with aluminum foil. Place mushrooms hollow-face down on the baking sheet. Brush with oil or lightly spray with an oil mister. Bake for 8 minutes the remove from oven. Reduce heat to 375'F. Allow the mushrooms to cool then transfer them to a plate lined with a paper towel to absorb some of the moisture. Line rimmed baking sheet with a new sheet of aluminum foil.
Drain cashews. In a blender, purée cashews with the almond milk until creamy. Depending on the power of your blender, this may take a few minutes. You want the texture to resemble a creamy ricotta. Add more almond milk as required. Pour cashew cream into a medium mixing bowl.
To the cashew cream, add the olive oil, lemon juice, lemon zest, grated garlic and herbs. Season with salt and pepper. Mix well to combine.
Place mushrooms hollow side up on the foil-lined baking sheet. Using a decorating bag, pipe approximately 1 tablespoon of filling into each mushroom cap. If you don't have a piping bag, you can spoon the filling into the mushrooms.
Bake mushrooms for 12 minutes. Serve hot.
Source: The Fig Tree – inspired by Canadian Living Appetizers cookbook