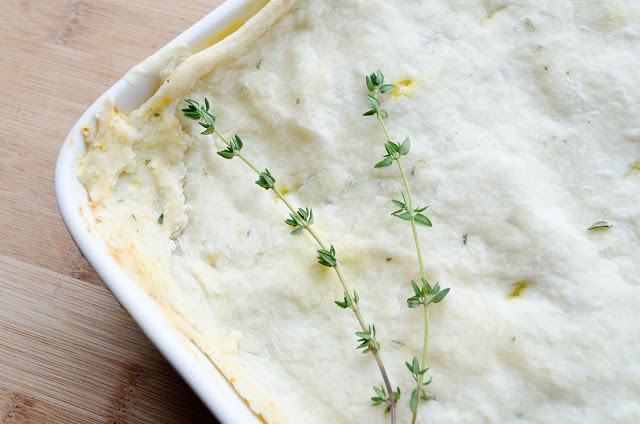 With the weather cooling down considerably over the past few weeks, I've turned my attention to comforting, warm, home-cooked meals. Two weeks ago, I hosted a vegetarian Thanksgiving dinner and opted to make this pot pie my main dish. It's loaded with delicious autumn vegetables such as butternut squash, carrots and Yukon Gold potatoes slowly simmered in a broth with fresh thyme and dill. The parboiled vegetables are then mixed into a rich dill havarti sauce and baked topped with a flaky crust with flecks of fresh rosemary. A delicious vegetarian version of a comforting pot pie. :)
Filling Ingredients
1 tablespoon of vegetable oil or canola oil

1 and 1/2 cups of yellow onion; chopped

3 bay leaves

1 teaspoon of salt

pinch of pepper

2 cups of potatoes; peeled and cubed

2 cups of butternut squash; peeled and cubed

1 cup of celery; chopped

2 cups of carrots; peeled and chopped

1 cup of green beans; chopped

1 cup of vegetable stock

1 tablespoon of fresh dill; chopped (or 2 teaspoons of dried dill)

a few sprigs of fresh thyme
Sauce Ingredients
1/4 cup of unsalted butter

1/3 cup of unbleached white flour

2 cups of vegetable stock

1 and 1/2 cups of dill havarti cheese; shredded

salt and pepper to taste
Crust Ingredients
1 and 3/4 cups of unbleached white flour

1 teaspoon of fresh rosemary; chopped

1/2 cup of unsalted butter

1/4 cup of ice water
Method
1. In a large pot, warm the oil. Add the onions and sauté on medium heat for 10 minutes; or until the onions are soft and golden. 
2. Add the vegetable stock then the potatoes, celery, carrots, bay leaves, salt and pepper. Cover and bring to a boil. Reduce to a simmer and cook vegetables for 5 minutes. 
Add thyme and dill then a
dd the green beans and squash. Cook another 5 to 10 minutes; or until the vegetables are just tender. Drain vegetables and set aside. Remove the bay leaves. 
3. Preheat oven to 375'F.
4. Make the Sauce: in a sauce pan, melt the butter and whisk in the flour to make a roux. Cook for 2 minutes on medium heat ensuring you whisk mixture constantly to avoid burning the flour.  Whisk in the stock. Stir constantly until the sauce thickens up. Whisk in the havarti dill cheese. Add salt and pepper to taste.
5. Combine the vegetables and sauce. Pour into a square casserole dish or deep dish pie plate. 
6. Make the crust: mix together the flour and rosemary in a large bowl. Put the mixture into a food processor with unsalted butter cut into cubes. Pulse the mixture until it resembles coarse crumbs. Sprinkle with ice water a tablespoon at a time. Lightly mix and form a ball of dough in the middle of the bowl. Note: I found that a little more than 1/4 cup of ice water was necessary in order to get the dough to form a ball.
7. On a lightly floured surface, roll out the dough into a piece large enough to cover your baking dish. Cover the entire top of the pie dish. Trim the edges and make small slots around the top of the crust, so that heat can vent out properly.
8. Bake for 40 to 50 minutes or until the crust is a light golden brown. Cool for 10 minutes. This will allow the sauce to firm up a considerable amount.
Source: Moosewood Celebrations Cookbook