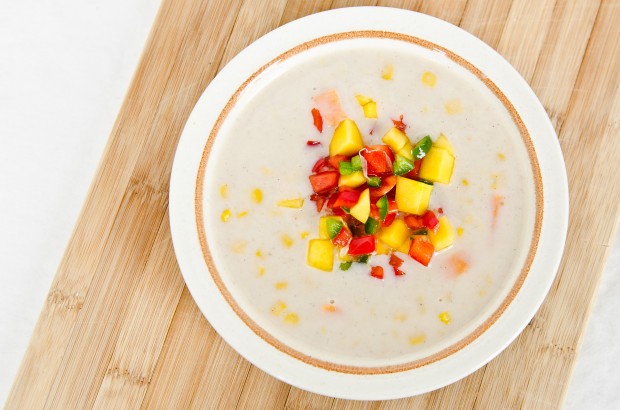 Today, we are off to the Caribbean! This Caribbean Corn Chowder is a little bit wintery with the sweet potatoes and a little bit summery with the fresh corn and salsa. I cannot think of a better dish to serve at this time of year when signs of spring are finally starting to appear. This chowder is comforting and hearty for the tail-end of winter, but refreshing and sweet in celebration of warmer weather. The perfect way to say good bye to winter produce and begin saying hello to that of the spring. This corn chowder highlights a lot of the signature ingredients associated with Caribbean cuisine – allspice, cayenne pepper, chilies, cinnamon, coconut, garlic, ginger, and sweet potatoes. And it's the perfect chowder to top with a few tablespoons of fresh mango salsa.
*For a gluten-free  + dairy-free version of this dish*, skip the step where you add flour and milk to your dish. Simply add 2 cups of vegetable broth after the garlic and ginger are sautéed. Then add a can of low-fat coconut milk. The chowder will be slightly less thick, but will have a huge amount of flavour.
Happy mid-week everyone! I'll be back in a few days where we'll be travelling to Morocco to enjoy a delicious, savoury dish with couscous! :)
Ingredients
3 cups of peeled sweet potato cubes
1 teaspoon of olive oil
1 tablespoon of fresh grated ginger
3 cloves of garlic, minced
2 tablespoons of flour
2 cups of low-fat milk (or 1-15 ounce can of low-fat coconut milk)
1 cup of vegetable broth
2 to 3 cups of frozen corn (adjust to your preference)
1/4 teaspoon of ground all-spice
salt and pepper to taste
Method
Make the fresh mango salsa.
Bring a large pot of water to a boil. Add sweet potato cubes. Reduce heat and simmer until sweet potatoes are tender (about 15 minutes). Drain and set aside.
Meanwhile, heat the olive oil over medium heat in a large saucepan. Add ginger and garlic. Cook for about 3 minutes. Add flour to coat. Gradually whisk in milk and broth ensuring there are no lumps. Bring to a boil, whisking constantly, until soup has thickened slightly (about 5 minutes).
Stir in cooked sweet potatoes and corn. Allow corn to thaw and heat through.
Add ground all-spice, salt and pepper. Cook for 5 more minutes then remove chowder from heat.
Serve chowder in soup bowls, spooning fresh mango salsa over top.
Source: adapted from West Coast Nest as originally seen on Peak of the Market website