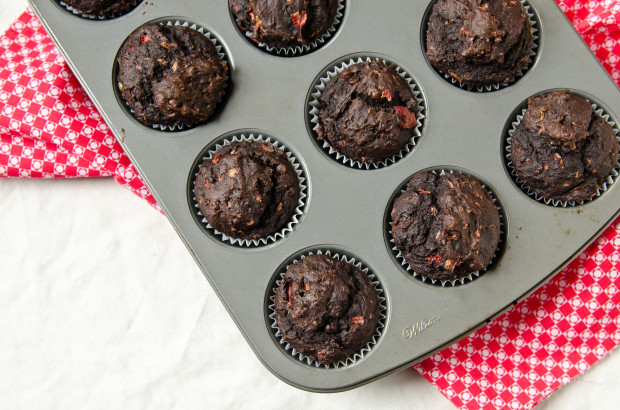 Weekend plans definitely changed a lot from what was originally planned due to torrential rain all Saturday and Sunday – but we still ended up having a lot of fun. It allowed for more spontaneity and a chance to spend some time baking! Hence, these double chocolate strawberry muffins. We received a pint of fresh strawberries in our weekly organic delivery on Wednesday and I knew I wanted to combine them with chocolate for a decadent treat. I opted to make muffins, as I wanted a special treat for morning coffee/tea time over the weekend. These muffins have strawberry purée mixed right into the batter and then strawberries pieces folded in for an extra big strawberry bite. These muffins are fudgey without being too dense. They are perfectly chocolatey with the mixture of cocoa powder and the mini chocolate chips. Yum! The combination of maple syrup and brown sugar allow for just the right amount of sweetness. Bottom line – these muffins are really yummy and so easy to throw together.
Note: I opted to add in a small bit of espresso powder, as I generally find it enhances the flavour of the chocolate. Feel free to leave it out if you don't have any on hand. Also, I believe you could sub the flax eggs with regular eggs (2) and the vegan butter with regular butter. I have only tested the dairy-free and egg-free version, but feel that using eggs and butter would work just fine.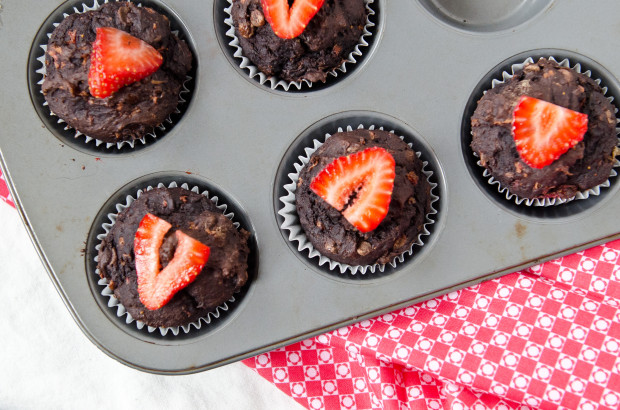 Hope you all had a great weekend – rain or no rain! Friday, we attended a family birthday . It was really nice to catch up with a few people from out-of-town. Saturday, we picked up our Saturday sticky-buns (it's a weekend tradition), did some grocery shopping, attended a concert (Yes We Mystic), celebrated my cousin Mark's university graduation (congrats Mark!!!) and then went out for an amazing dinner with some of our very best friends. Today, we celebrated father's day with my amazing dad by making him brunch and then we watched World Cup matches all afternoon. Not a bad way to spend a rainy day. :)
Double Chocolate Strawberry Muffins
Ingredients
2 flax eggs (2 tablespoons of ground flax seed & 6 tablespoons of water)
1 cup of mashed strawberries
1/4 cup of pure maple syrup
1/3 cup of brown sugar
1/2 cup of unsweetened almond milk
1/4 cup of melted vegan butter
1/4 teaspoon of salt
1 and 1/2 teaspoons of baking soda
1 teaspoon of espresso powder (optional)
1/2 cup of unsweetened cocoa powder
1 and 1/3 cups of unbleached all purpose flour
1/2 cup of chopped strawberries
1/3 cup of diary-free mini chocolate chips
Method
Preheat oven to 375'F. Line muffin tin with paper liners.
Prepare the flax eggs. Combine the ground flax with the water and mix well. Let rest for 5 minutes, or until the consistency of an egg.
In a large bowl, combine the mashed strawberries, maple syrup, brown sugar, melted butter and unsweetened almond milk.
In a small bowl, combine the salt, baking soda, espresso powder, cocoa powder and flour.
Add the dry ingredients to the wet ingredients. Mix until just combined. Do not over-mix the batter. The batter will be very thick.
Fold in the chopped strawberries and chocolate chips. Using a large ice cream scoop, scoop batter into muffin cups. Bake for 20 to 22 minutes or until a toothpick inserted in the centre comes out clean or with a light crumb. Allow muffins to cool in the pan for 5 minutes and then remove them and let them finish cooling on a wire rack.
Source: adapted from Minimalist Baker