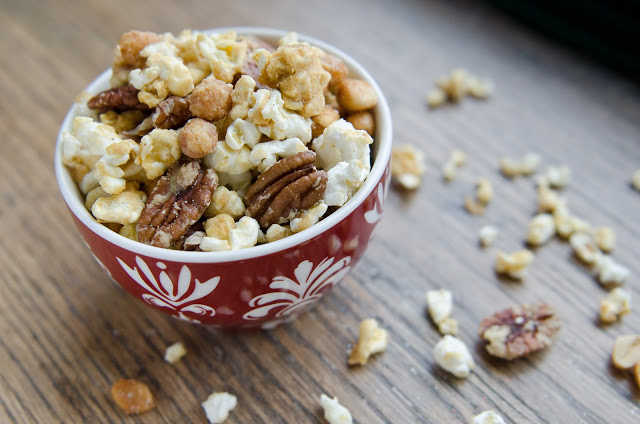 For as long as I can remember, my mom has made this poppycock (caramel corn) recipe at Christmas time. And it's my favourite Christmas tradition. My sister, dad and I always look forward to the day mom makes a huge batch of this stuff! It's beyond delicious! It's gooey and salty, crunchy and sweet. It's seriously the best thing ever. Since this is one of my family's biggest Christmas tradition, I thought the recipe would be fun to share with all of you.
Last year, my poor mom injured her foot and was unable to do any Christmas baking. She was completely out-of-commision. We were very supportive and took good care of her, but also gave her a really hard time for getting injured the week she was supposed to make our annual batch of poppycock. It is not Christmas without this stuff! *hah* Sure, I could have made the poppycock myself, but it's tradition for mom to make it. And I'm lazy. *hah* This year, mom made up for lost time and made a HUGE batch. Sadly, I ate my allotment in record time. I barely got this picture taken before I finished off my share of the batch. *hehe* 
Maybe santa will bring me more poppycock for Christmas….pretty please? :)
Ingredients
2 cups of un-popped popcorn

1 cup of salted butter

2 cups of packed brown sugar

1/2 cup of corn syrup

1 teaspoon of baking soda

1/8 teaspoon of cream of tartar

1 teaspoon of pure vanilla extract

2 cups of pecans

2 cups of peanuts
Method
1. Pre-heat oven to 200'F. Pop the popcorn kernels on the stove top or in a popcorn machine. Set popcorn aside in a large roasting pan to cool. Note: make sure to sift through the popped popcorn to ensure there are no unpopped kernels. You want to limit them as much as possible.
2. In a large saucepan, combine the butter, brown sugar and syrup. Bring to a gentle boil over medium-low heat and cook for 5 minutes stirring frequently.
3. Remove from heat and add baking soda, cream of tartar and vanilla. Stir to combine.
4. Pour the hot caramel mixture over the popcorn. Add the pecans and peanuts. Gently shake the roasting pan side-to-side to distribute the caramel.
Note: Do not touch the caramel covered popcorn as the caramel will be 
incredibly hot. Once a bit cooler, stir popcorn with a large wooden spoon.
5. Bake popcorn mixture in the roasting pan for 1 hour at 200'F stirring the poppycock every 15 minutes. Cool and store in airtight containers.
Source: Mom (original source unknown)