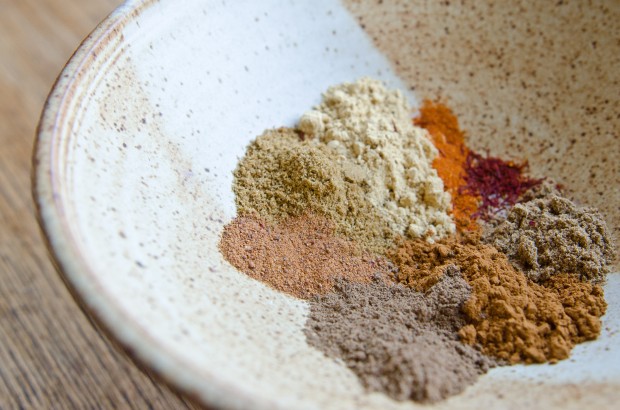 First things first – I just wanted to thank you all so much for the love and support in regards to the new Fig Tree design and focus. I've received the nicest, most enthusiastic comments over the past few days and I could not feel more inspired. Thank you for that.  Thank you to my readers – new and old. Welcome to those whom have just discovered The Fig Tree. So glad you did! I'm so looking forward to what's to come for this little blog. :)
With the fluffy stuff aside,  I'd like to present one of my very favourite spice blends – Ras el Hanout. Ras el Hanout is a Moroccan spice blend used in many savoury dishes across countries in North Africa. As with Garam Masala (from India), Ras el Hanout is a blend of spices that varies from family-to-family and region-to-region. Generally speaking, Ras el Hanout contains cardamom, clove, cinnamon, ground chilies, coriander, cumin, nutmeg and turmeric. It is perfect to add a ton of flavour to roasted vegetables. I like to roast sweet potatoes tossed in a bit of olive oil and a few teaspoons of this delicious, earthy spice mixture. Please note that I did not include salt or pepper in this spice mixture. I like to season whatever I am making during cooking, so I tend to like spice mixtures without added salt. Feel free to add 1 and 1/2 teaspoons of kosher salt to this recipe if you'd like your spice mixture to include extra seasoning.
I'll be back in a few days with a delicious main dish with this Ras el Hanout spice blend as the key ingredient. Hope you are all having a wonderful week. We've finally got some sunshine and some warmer weather here. Spring is on its way and I could not be happier!
 Ingredients
2 teaspoons of ground cumin
2 teaspoons of ground ginger
1 and 1/2 teaspoons of ground cinnamon
1 teaspoon of ground coriander
1/4 teaspoon to 1/2 teaspoon of cayenne pepper (to heat preference)
1 teaspoon of ground all-spice
1/2 teaspoon of ground saffron threads (optional)
1/4 teaspoon of ground cloves
1/4 teaspoon of ground nutmeg
Method
1. Combine all ingredients in an airtight jar or container.
Keep spice blend in a dark, dry place in your pantry for up to 3 months (for optimal freshness).
Yield: approximately 1/2 cup
Source: adapted from Cooking Light (January 2009)