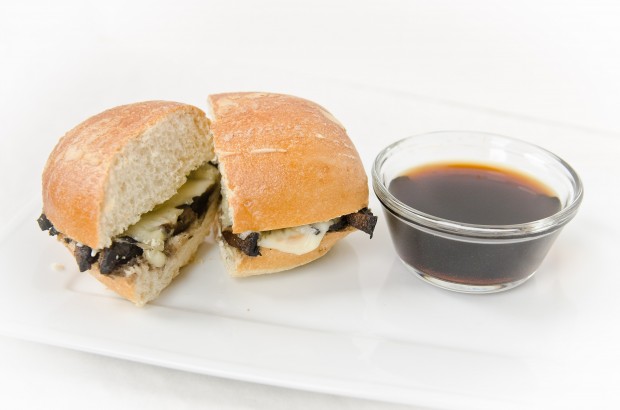 I have a love/hate relationship with mushrooms. For some reason, I'm very picky when it comes to mushrooms. I love mushrooms on pizza, in pasta dishes, in veggie burgers, in chili and raw with dip. Yum! However, for the longest time, I refused to try any mushroom that was not a simple button mushroom (cremini). Portobellos creeped me out the most for some reason and I refused to try them. Recently, I was at a restaurant that served a delicious zucchini ribbon pasta with fresh seasonal vegetables. When my order arrived, I noticed large slices of portobello mushroom mixed in. Hmmmm.  I was not impressed. *hah* But after about 10 minutes of pushing the mushrooms around on my plate, I gave in and finally tried a portobello mushroom. And I loved it. Who would have thought – It was full of flavour and had a great texture.
So now, I don't write off recipes that call for portobello mushrooms. I actually have been dog-earring them in my cookbooks as of late. This was the first portobello recipe I tried at home. I had always wanted to try a French Dip sandwich – a sandwich that originated in the United States. I could not say no to a sandwich with roasted mushrooms and a delicious spread with garlic, shallots, fresh herbs and white wine. Mmmm! Toss in some caramelized onions and some swiss cheese (or vegan cheese) on some toasty, crusty bread and you've got one incredible meal. Serve with a simple side salad and you're set.
Sandwich Ingredients
3 tablespoons of extra-virgin olive oil; divided
2 teaspoons of minced garlic
3 portobello mushrooms
salt and pepper
1 large yellow onion, thinly sliced
1 rustic baguette or 4 small crusty buns
4 slices of swiss cheese or vegan cheese
French Dip Spread (recipe to follow)
Mushroom Dip (recipe to follow)
French Dip Spread
1/2 teaspoon of extra-virgin olive oil
1/2 shallot, minced
1/2 teaspoon of minced garlic
1 tablespoon of fresh, chopped herbs or 1 teaspoon of dried herbs
2 tablespoons of white wine
1/2 cup of vegan butter or unsalted butter, at room temperature
salt and pepper to taste
Mushroom Dip
1/2 pound of whole crimini mushrooms
6 cloves of garlic, lightly crushed
2 tablespoons of reduced-sodium soy sauce
Method
1. French Dip Spread: Heat the 1/2 teaspoon of olive oil in a small skillet over medium heat. Add the shallot, garlic and herbs. Cook for two minutes, stirring constantly. Add the wine and cook until most of the wine has evaporated, but mixture is still moist. Remove from heat and cool completely. Once cooled, whisk shallot/garlic mixture into the softened vegan butter or unsalted butter. Add salt and pepper to taste.
2.Preheat oven to 350'F. In the saucepan used for the French Dip Spread, heat 1 tablespoon of olive oil over medium heat. Sauté the sliced onions while the portobello mushrooms are roasting (next step).
3. Mix 2 tablespoons of olive oil and the garlic in a small bowl. Brush both sides of the portobello caps with the garlic/oil mixture. Season with salt and pepper. Place the mushrooms gill side down on a parchment lined baking sheet. Roast for 25 minutes. Once roasted, allow the portobello mushrooms about 15 minutes to cool completely. Leave oven on at 350'F.
4. Mushroom Dip: While the portobello mushrooms are roasting, combine the crimini mushrooms, garlic, and 4 cups of water in a medium sauce pan. Bring to a boil then reduce heat and simmer the mixture for about 40 minutes (allowing enough time for the mixture to reduce). Strain the liquid and whisk in the soy sauce. Note: mushroom dip can be frozen to be used at a later date.
5. When the portobello mushrooms have cooled, slice them thinly on an angle trying to get about 8 slices per portobello cap.
6. Cut the baguette into 4 equal portions. Spread the French Dip spread on all 8 halves of bread. Griddle the bread in large skillet for 3 minutes, or until lightly golden.
7. Place 4 baguette pieces (the bottoms) on a baking sheet (griddled side up). Top each piece with 1/4 of the portobello slices, some of the cooked onions and a slice of cheese. Toast in the oven at 350'F until the cheese is melted and the mushrooms heated through (about 10 minutes). Top with the top halves of baguette.
8. Cut each sandwich in half at an angle. Serve with a side of mushroom dip (1/3 cup per person).
Yield: 4 sandwiches
Source: Café Flora (Seattle) Cookbook by Catherine Geier