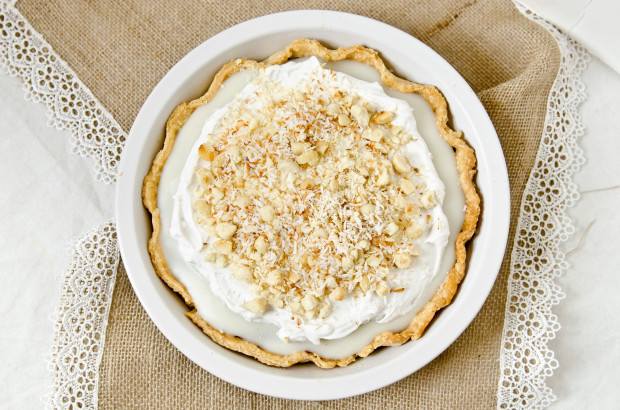 This past December, my sister, my brother-in-law, my parents, Jesse and I celebrated Christmas in Hawaii. We spent two weeks basking in the sun in Honolulu on the island of Oahu. We dined on fresh tropical fruit and delicious treats such as macadamia nut banana bread with guava jam. Yum! Every single morning, I had a fresh mango smoothie and I drank my fair share of coconutty drinks! Between the fresh ocean air, the gorgeous scenery and then amazing local fruits and veggies, I became rather smitten with Hawaii-life. To be honest, I'd love to move to Hawaii one day. It would be such a wonderful change – especially after the winter we had here on the Canadian Prairies.
While in Hawaii, I learned of a Hawaiian dessert called Haupia. Haupia is a coconut milk-based Hawaiian dessert that is like a pudding. It is often served at luaus and other gatherings on the Islands. True haupia is thickened with arrowroot powder, but you can also use cornstarch. Haupia is normally served in blocks or bars as is quite gelatinous in nature.
This past weekend, I decided to make a chocolate coconut cream pie with the coconut cream layer inspired by haupia. I brought the pie to Easter dinner in hopes of conjuring great memories of the Islands. It worked! We reminisced about our wonderful vacation – a truly unique and magical Christmas in paradise. Thankfully, the pie was a huge hit at dinner. The crust is light and flaky. The chocolate layer is creamy and rich. The coconut layer is equally rich and full of flavour. The pie is topped with homemade coconut whipped cream and garnished with toasted coconut, macadamia nuts and/or chocolate curls. And that's not all. The pie is entirely vegan!
Hope you all had a lovely Easter weekend.
Vegan Chocolate Coconut Cream Pie
Ingredients
1 and 1/3 cups of all-purpose, unbleached flour
1/4 cup of Earth Balance butter, chilled and cut into pieces
1/3 cup of vegetable shortening or Earth Balance shortening, chilled and cut into pieces
1 pinch of salt
5 tablespoons of cold water
1/2 cup of cornstarch or arrowroot powder
1 cup of water
1-14 ounce (400ml) can of full-fat coconut milk
1/2 cup of sugar
1 cup of unsweetened almond milk
7 ounces of semi-sweet chocolate chips (diary-free brand)
1-14 ounce (400ml) can of full-fat coconut milk; chilled in the fridge overnight
1 tablespoon of sugar
1/2 cup of chopped macadamia nuts, toasted
1/2 cup of unsweetened coconut, toasted
Method
Preheat the oven to 375'F.
Combine the flour and salt in a large bowl. Using two knives or a pastry cutter, cut the chilled shortening and chilled butter into the flour mixture until mixture resembles coarse crumbs. Add cold water in gradually while mixing until a dough forms. Pat the dough into a flat disk, cover with plastic wrap and place in the fridge for at least an hour.
Once chilled, roll the dough into a 13-inch round and place in a 9-inch pie plate. Decorate pie edges as desired. Pierce the bottom of the pie crust with a fork. Place a piece of parchment or tinfoil in the pie shell. Fill with pie weights or dried beans. NOTE: I highly recommend this Pie Weight Disc by Williams-Sonoma. It eliminates the need for pie weights and is so easy to use and clean. One of my favourite purchases! Bake crust for 20 minutes.
Remove the pie weights (or pie weight disc) and bake the crust another 15 minutes or until the pastry is golden brown. Cool on a wire rack in the pie plate. NOTE: If the edges of your crust start to brown too quickly, cover the edges with tin foil or use a silicone pie crust protector such as the one from Williams-Sonoma.
Combine the cornstarch and the water in a small bowl. Whisk until the cornstarch is well dissolved.
In a medium saucepan, combine the almond milk, coconut milk and 1/2 cup of sugar. Bring the mixture to a gentle boil over medium-high heat.
Reduce to a simmer and whisk in the cornstarch mixture. Stir until thickened.
Place chocolate chips in a medium bowl. Pour half of the hot coconut milk mixture overtop. Wait for 2 minutes and then stir. The chocolate should have melted sufficiently and will combine easily into the coconut milk mixture.
Pour the chocolate mixture into the prepared, cooled pie crust followed by the remaining plain coconut milk mixture. Chill the pie for at least an hour.

Method: Coconut Whipped Cream

Place mixing bowl and whisk attachment in the freezer for 20 minutes.
Add the coconut cream to the chilled mixing bowl followed by the tablespoon of sugar. NOTE: you only want to add the coconut cream and not the coconut water. The coconut milk should have separated from the coconut water after the can sat in the fridge overnight. The coconut water itself could hinder the results of the coconut whip.
With a mixer at high speed, whip the coconut milk & sugar mixture until light and fluffy. Layer the coconut cream on top of the coconut cream filling.
Garnish pie with cooled, toasted, unsweetened shredded coconut, toasted chopped macadamia nuts and/or chocolate curls.
Note: To toast the coconut and the macadamia nuts, place both in a dry frying pan (no oil) and toast over medium heat until the nuts/coconut brown slightly and become fragrant (about 3 minutes).
Source: loosely adapted from Christine Cushing (Christine Cushing Live)