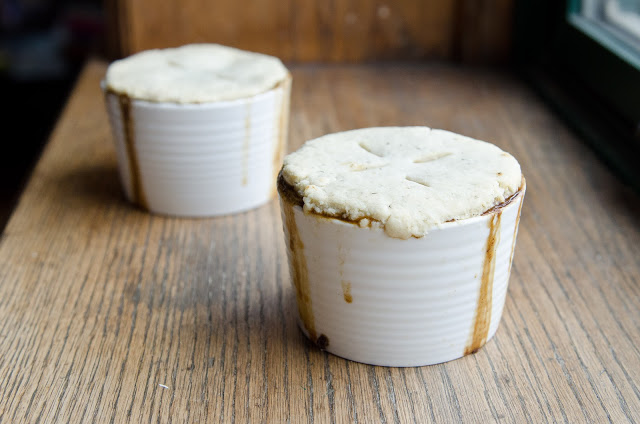 On Tuesday, I posted about a local winter festival that we attend every February 
called Festival du Voyageur
. I also commented on the awesome food one can enjoy at the Festival each year. Unfortunately, most of the food contains a lot of animal products, so I have been unable to enjoy it for a number of years. So,
 I made it my mission this year to create vegetarian/vegan versions of my favourite French-Canadian recipes.
 I have already shared a vegetarian/vegan version of
French-Canadian Pea Soup
. And today, I'd like to share a vegetarian/vegan pie that Canadians call Tourtière. For many French-Canadians, tourtière is a traditional pie that always makes an appearance at family holidays and gatherings. I've not had it in years, as the basis for this pie is meat. Lots of meat. The meat is flavoured with garlic, onion, ground cloves, cinnamon and nutmeg. A little soy sauce is added for another savoury element. The meat is then mixed with some slowly cooked vegetables such as potatoes, carrots and celery. Everything is topped off with a crusty, light pastry and usually served with a apple or pear ketchup.
For this vegetarian version, I opted to use veggie ground in lieu of the ground beef or ground pork. If you are not a fan of veggie ground, you could use tempeh crumbles or perhaps even some under-cooked lentils. Tourtière is supposed to be very rustic and hearty. I tried my best to capture this in my photo, but photographing tourtière proved to be very difficult! *hah* I promise, this photo does not do the French-Canadian pie justice. It's savoury, spice-filled and perfectly comforting for the cold winter months. 
Ingredients
2 tablespoons of canola oil

1 medium onion, chopped

2 cloves of garlic, minced

2 packages of veggie ground (such as Yves Veggie Ground)

2 teaspoons of soy sauce

1/2 teaspoon of ground black pepper

1/4 teaspoon of cloves

1/4 teaspoon of ground nutmeg

1/4 teaspoon of ground cinnamon

4 ribs of celery, diced

2 carrots, peeled and diced

2 cups of cubed, peeled potatoes

1 teaspoon of dried thyme

2 bay leaves

2 cups of vegetable broth
Savoury Pastry
1 and 1/2 cups of all-purpose flour

1/2 teaspoon of salt

1/2 teaspoon of dried thyme

1/2 cup of vegetable shortening

1 teaspoon of vinegar

1/3 cup of ice water
Method
Savoury Pastry: In the bowl of a food processor, combine the flour, salt and thyme. Add cubed vegetable shortening. Pulse the mixture until it resembles coarse crumbs. Note: you can also use a pastry cutter or two knives to achieve the coarse crumbs if you don't have a food processor. Add vinegar to mixture then pulse while slowly adding the cold water. Dough should quickly come together nicely. Press into a disc, wrap with plastic wrap and chill for 30 minutes. 
1. Preheat oven to 400'F. In a large saucepan, heat canola oil over medium-high heat. Sauté diced onion until softened and translucent (about 5 minutes). Add garlic and sauté another 2 minutes. Add in the veggie ground heating it through and allowing it to brown a little. Add in the soy sauce, ground pepper, nutmeg, cloves, and cinnamon. Mix well and then remove mixture from heat.
2. Meanwhile, in a large stockpot, bring vegetable broth, potatoes, carrots and celery to a boil. Add the ground thyme, salt, pepper and bay leaves then reduce heat to a summer. Cook until the vegetable stock has reduced and the potatoes are very soft (about 20 to 25 minutes). Mash potatoes with the back of a wooden spoon to thicken up the mxture.
3. Stir the vegetable mixture into the veggie ground mixture. 
4. Place filling into a deep 9-inch pie plate. Remove dough from the fridge and roll out on a lightly floured surface to about 1/8 inch thick. Fit the pastry over the pie plate. Trim to the rim of the plate. Create a decorative edge.
5. Decorate top of pie with pastry scraps, if desired, then cut steam vents on top. Bake in the bottom third of a 400'F oven until bubbly and golden (about 35 minutes). Note: Do no overfill the pie plate with the filling. It will bubble over and create a mess in your oven if you are not careful (as I found out!)
Yield: serves 6
Source: loosely adapted from Canadian Living Magazine 2008