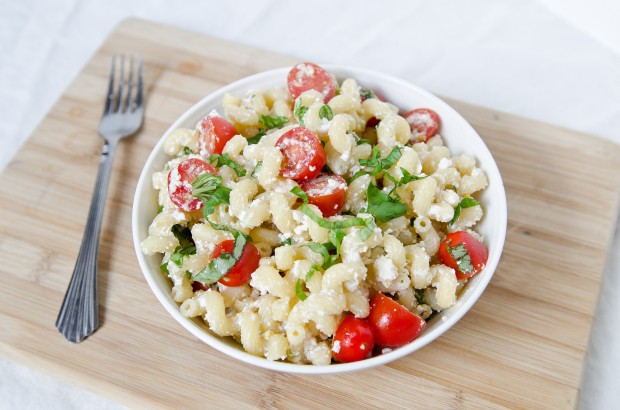 This past weekend, we finally got to have a picnic! I had been dreaming about having a picnic all winter (and  most of this chilly spring). There's nothing better than being outside, enjoying some good food and hanging out with wonderful friends. Saturday, we drove an hour outside of the city to meet our good friends Patrick and Stephanie for a picnic dinner. We set up our picnic on a pretty table overlooking the lake. The sky was perfectly clear and the weather was nice & warm. And thankfully, the bugs weren't too bad. Right, Jesse? :) *hehe* Patrick and Stephanie brought their adorable dogs Sadie & Zoey to the picnic and they provided endless entertainment. So cute! Food-wise, Stephanie brought fresh watermelon, cherries, veggies and dip and delicious Icelandic donuts (kleina) for dessert. I brought mojito fruit salad and this bruschetta pasta salad.
Pasta salad is one of my favourite things to bring to a picnic, mainly because it is so filling and feed lots of people. But pasta salad is also like a blank canvas. You can mix in so many different ingredients and change up the dressings. This salad from Once Upon A Cutting Board is the perfect example of that! Yum! I also love to bring Antipasto Pasta Salad along to summer potlucks, picnics and BBQs.
One of my favourite pasta salads is the Greek Pasta Salad I posted last year. The Greek Pasta salad was the basis for this bruschetta-inspired pasta salad. It's a delicious blend of fresh tomatoes, basil, a sweet/sour dressing and salty feta cheese. Parmesan cheese is also a nice addition if you don't have feta cheese on hand. For those of you who don't like pasta salads, I recommend bringing a Caprese Quinoa Salad to your next picnic. It's always a hit!
What are your favourite things to bring to a picnic?
Ingredients
1 pound of pasta (bow-ties, rotini, fusili, etc)
1/4 cup of olive oil
2 tablespoons of red wine vinegar
1 tablespoon of sugar
2 cloves of garlic, finely minced
salt and pepper to taste
1 pint of cherry tomatoes, halved
handful of fresh basil, chopped
3/4 cup of feta cheese or 1/2 cup of grated parmesan cheese
Method
Cook pasta according to package instructions until al dente. Rinse with cold water. Add cherry tomatoes and set aside.
In a small jar, combine the olive oil, red wine vinegar, minced garlic, sugar, salt and pepper. Shake to combine.
Pour dressing over the pasta. Sprinkle feta on top. Toss well to combine. Gently mix in chopped fresh basil. Allow mixture to sit for at least 30 minutes before serving to allow flavours to develop.
Notes