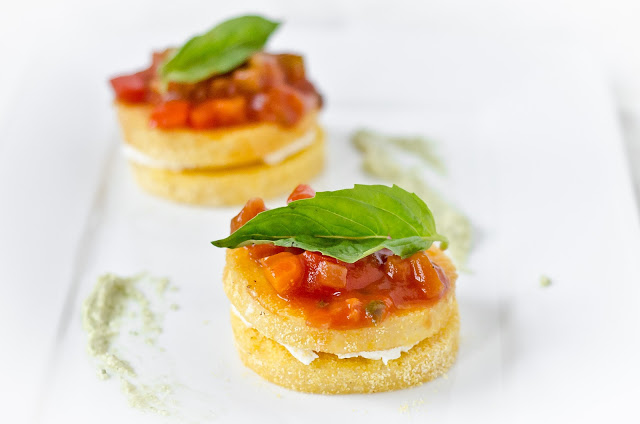 These savoury vegetarian Napoleons are one of my favourite things to make. I love making them especially when I'm having company over. They look & taste like they took a ton of effort, but are really quite simple to put together. I bake the polenta rounds to create a bit of a crispy crust. Then I sandwich the rounds with a flavourful goat cheese and top them off with a homemade vegetable ragout and fresh basil. The napoleons could be served as an appetizer or as a main dish served along side a nice green salad with a light vinaigrette. 
The vegetable ragout is also delicious served as a pasta sauce or over cooked quinoa. I've also served the vegetable ragout over these Mediterranean Quinoa Veggie Burger patties with a sprinkle of Romano cheese. Delicious!
Ingredients
1 roll of store-bought polenta (or homemade polenta cut into rounds)

1/2 cup of cornmeal

canola oil spray

8 ounces of goat cheese

1 medium onion, diced

3 cloves of garlic, minced

1 large zucchini, diced

5 stalks of celery, chopped

1 red pepper, diced

1 yellow pepped, diced

1 can of tomato paste

1 cup of vegetable stock

a handful of fresh basil, finely chopped

salt and pepper to taste
Method
1. Preheat over to 325'F.
2. Cut the roll of polenta into about 14 rounds (about 1/2 inch thick). Press each round into the cornmeal to lightly coat. Spray each round with some canola or olive oil spray. Place rounds on a baking sheet lined with parchment paper. Place in oven and cook for about 20 minutes. Note: the cornmeal crust will give the polenta a nice crunch.
3. Meanwhile, in a large sauce pan, heat 1 tablespoon of olive oil or canola oil. Add the diced onion and sauté until tender (about 5 minutes). Add the garlic and sauté another minute.
4. Add the diced celery, zucchini and peppers. Sauté for about 10 minutes, or until the peppers start to softened nicely.
5. Mix together the tomato paste and vegetable stock in a small bowl and add to the sautéed vegetables. Allow mixture to simmer for about 5 minutes on low heat. Season with salt and pepper. Add fresh, chopped basil.
6. Assemble: Place one polenta round on a plate then put 1 ounce of goat cheese on top. Press a small basil leaf into the goat cheese. Place a second polenta round on top of the goat cheese. Press down to ensure the napoleon will stay together. Top the napoleon with some of the tomato vegetable ragout. Repeat until all napoleons are put together. Serve warm.
Yield: 7 to 8 napoleons
Source: a Courtney original recipe