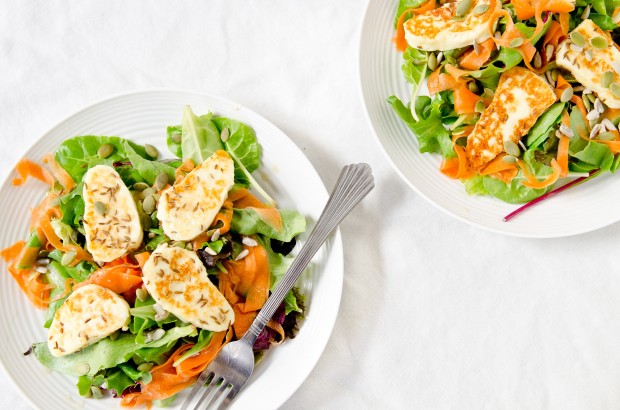 A few weeks back, Jesse and I spent 10 days in London, England, celebrating our recent engagement. We had a truly magical time! Lots of laugh, so many neat sights and lots of delicious food! Oh, the food! :) One of the things that really stood out to me in England was how vegetarian + vegan friendly all of the restaurants were. All of the menus had multiple veggie-options. Since I am used to only one or two options per menu, I found deciding on a meal in England really difficult! It was a GREAT problem to have! My biggest conundrum was deciding between asparagus-pea ravioli with mint or sun-dried tomato ricotta cannelloni at Jamie Oliver's restaurant – Jaime's Kitchen in Covent Garden. I went with the ravioli…twas a GREAT choice! Yum!
Halloumi seemed to be a very popular ingredient on many of the menus in England. Halloumi is a semi-hard, unripened, brined cheese often used in Middle Eastern cuisine. It has a high melting point which makes it great for grilling and pan-frying. It retains its shape nicely and has a wonderful texture. One of my favourite meals in London was the vegetarian fish and chips that I enjoyed at a pub near Trafalgar Square. The "fish" was beer-battered halloumi cheese. It was served with tartar sauce, mushy peas and proper pub-style chips. I was in heaven!
When we got home, I was on a mission to find some halloumi cheese and thankfully found some at our neighbourhood grocery store. Since halloumi cheese is quite rich and relatively salty, I wanted to use it with really fresh, light ingredients. I paired the pan-fried halloumi with fresh spring greens with orange-cumin marinated sliced carrots. The citrus in the dressing cut the richness of the cheese. And the sweetness of the honey paired up perfectly with the saltiness of the halloumi. Jesse and I enjoyed this salad for lunch recently and were smitten! It's the perfect salad for a light lunch.
To make this salad vegan, I suggest pan-frying a few slices of tofu with some cumin seeds. Crispy tofu would be a great substitute for the halloumi cheese. Additionally, you can grill the halloumi cheese on your BBQ. Just brush the oil onto the grill and cook the halloumi about 2 minutes on each side.
Marinated Carrot + Halloumi Salad
Ingredients
12 slices of halloumi cheese
1 tablespoon of cumin seeds
2 tablespoons of canola oil, divided
4 large carrots, peeled and sliced into thin strips (using a vegetable peeler)
1/4 cup of pepitas (pumpkin seeds)
2 tablespoons of fresh orange juice
1 tablespoon of fresh lemon juice
1/2 tablespoon of honey or agave
1/2 teaspoon of ground coriander
1/4 teaspoon of ground cumin
pinch of salt and pepper
spring greens mix
Method
In a small jar, combine the orange juice, lemon juice, honey (or agave), ground cumin, ground coriander, 1 tablespoon of canola and salt + pepper. Shake well to combine. Toss dressing with the shredded carrots. Set aside. Allow carrots to marinate in dressing for at least 15 minutes.
Heat remaining tablespoon of canola oil in a large skillet over medium heat. Place slices of halloumi cheese in skillet and allow them to golden (about 4 minutes for the first side and 2 for the second). Right after flipping the cheese, sprinkle halloumi with cumin seeds. Allow the seeds to toast for about 2 minutes. Remove cheese from heat and allow to cool slightly.
Place mixed greens onto 4 salad plates. Top greens with orange-cumin marinated carrot slices. Place 3 slices of halloumi cheese on top of each salad. Garnish with pepitas. Note: if any dressing remaining in bowl, drizzle over salad.
Notes
Source: loosely adapted from Canadian Living - July 2013