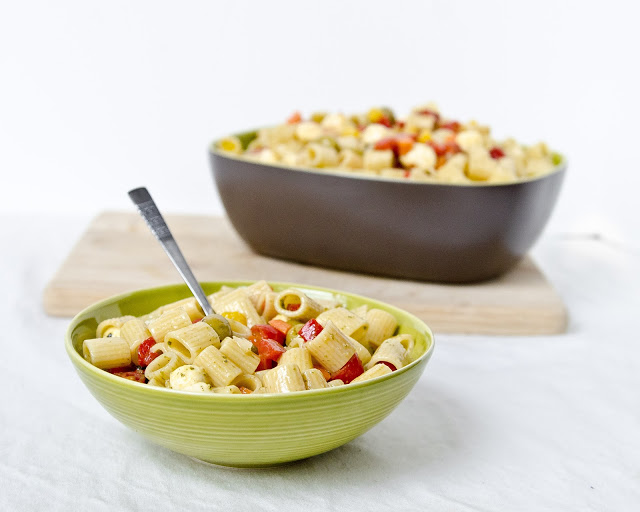 I don't know about you guys, but I'm sick of winter. I admit, it's been a bit more tolerable the past few days, as it's warmed up here slightly on Friday. Who knew -25'C (-13'F) could feel balmy!? *hah* But after a whole week of -40'C (-40'F), -25'C felt a heck of a lot better!
Being in the midst of winter has me very much missing the long, warm days of summer. I'm sure many of you feel the same way. So, in order to capture a little bit of summer, I decided to make a pasta salad to share. I feel like a bit of a rebel, as "antipasto" translates to "anti-pasta". So what do I go and do? I add pasta to the antipasto. *hah* Antipasto is traditionally the first course of an Italian meal and normally includes a variety of cheeses, olives, peppers, cured meats, vegetables and a combination of olive oil and vinegar. Fresh herbs are often added as well.
 This antipasto salad is a perfect pasta salad to make over the winter, as you can use a lot of organic, canned produce (peppers, tomatoes etc) to create a fresh tasting "summery" salad. It's also a fun salad to be creative with. You can add different types of cheeses such as provolone and mozzarella. You can also add kalamata olives, mushrooms, cauliflower and herbs (parsley, oregano, basil etc). This recipe can easily be made vegan by either omitting the cheese or using a variety of vegan cheese.
Wishing you all a wonderful "summery" Monday. :) I'll be back in a few days with a new recipe. I'm thinking I may share one of my favourite curry recipes!
Ingredients
1 clove of garlic, minced
1/3 cup of extra virgin olive oil or canola oil
3 tablespoons of red wine vinegar
2 teaspoons of sugar
1 tablespoon of dijon mustard
salt and pepper to taste
1 lb of pasta, preferably a tube-shaped pasta
3 carrots, peeled and diced
1/2 pound of green beans, cut into bite size pieces
1 small bulb of fennel, cut lengthwise into 1/4 inch slices
2 large jarred roasted red peppers, diced
1 yellow pepper, diced
1 pint of cherry tomatoes, halved
2 cups of mini bocconcini cheese balls (omit for vegan)
1 cup of green Spanish olives
1-12 ounce jar of pepperoncini; drained and rinsed
1-7 ounce jar of marinated artichoke hearts
1 bunch of fresh basil, chopped
Method
1. In a small bowl or jar, combine the minced garlic, extra virgin olive oil, red wine vinegar, sugar, dijon mustard, salt and pepper. Whisk well. Set aside and allow flavours to combine.
2. Cook the pasta according to package instructions. Allow the pasta to cook until el dente. Note: The pasta will soften up a little when it sits in the dressing, so it's a good idea to under cook the pasta a bit. During the last 4 minutes of the pasta cooking, add the carrots, green beans and fennel to blanch them. Drain pasta and vegetables. Run cool water over the pasta/vegetables to stop the cooking process. Pour into a large serving bowl and set aside.
3. Once the pasta is completely cooled, add the roasted red pepper, yellow pepper, cherry tomatoes, bocconcini cheese, spanish olives, pepperoncini, and marinated artichoke hearts. Drizzle the salad with the prepared dressing. Mix well. Refrigerate salad for at least an hour to allow flavours to combine.
Add fresh basil to salad and mix just before serving.
Yield: serves 6 to 8 people
Source: Courtney Jones