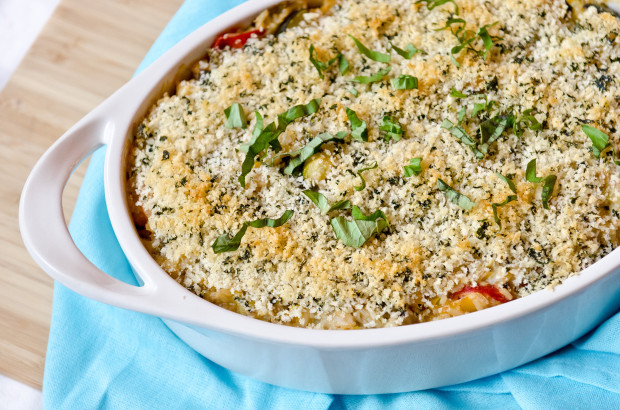 I just cannot believe it's already the end of August. Time goes by too quickly – especially in the summer it seems. And although my favourite season is autumn, I am not 100% ready to trade in my sandals and sundresses for my fall coat and boots. Regardless of my protests, it would seem fall is definitely on its way. For starters, everyone is freaking out about the arrival of Pumpkin Spice Lattés here. Don't get me wrong, I'm very excited for "pumpkin season," but, after the winter & spring we had, I'd like to enjoy a few more summery days if at all possible. We'll see what Mother Nature has in store.
In order to savour the last little bit of the summer, I opted to make a casserole loaded with all of my favourite summer vegetables. Luckily, we received a great selection of late summer veggies in our organic delivery this past week. Fresh corn-on-the-cob, zucchini, cherry tomatoes, and beautiful, local red peppers. I roasted the veggies and combined them with some hearty, nutritious brown rice and a flavourful dairy-free cream sauce. I topped the casserole with some breadcrumbs and some fresh basil to add some extra flavour and a nice crunch. You really cannot go wrong with corn, tomatoes, zucchini and basil. They are the epitome of summer produce. This casserole can be served as a main dish with a nice, light salad or as a side dish.
Wishing all of my Canadian and American friends a wonderful long weekend! I'm looking forward to spending the weekend catching up with friends and spending time with family. Oh…and cooking! :)
Roasted Summer Vegetable & Rice Casserole
A delicious, creamy vegan casserole with all of your summer favourites - fresh tomatoes, zucchini, peppers, corn and basil. The rice makes this dish very filling while covering you for both protein and fibre. Feel free to add a can of chickpeas or white beans for some added protein.
Ingredients
1 tablespoon of extra-virgin olive oil
pint of cherry or grape tomatoes, halved
2 medium zucchini, cut into bite size pieces
2 red, yellow or green peppers, cut into bite size pieces
salt and pepper to season vegetables
4 cups of cooked brown rice (cook according to package)
1 large onion, finely chopped
2 cloves of garlic, minced
2 tablespoons of vegan butter/margarine
2 tablespoons of all-purpose flour
2 cups of dairy-free milk such as almond milk
1/2 cup of water
1 low-sodium vegetable bouillon cube
2 tablespoons of nutritional yeast (optional)
1 tablespoon of dijon mustard
1 cup of corn cut from 1-2 ears or from frozen
1/4 cup of panko bread crumbs
1/2 cup of basil, finely chopped
drizzle of extra-virgin olive oil for the topping
Method
Preheat oven to 450'F. Cook 3-4 cups of brown rice according to package.
Toss the tomato halves, zucchini and peppers with the olive oil. Season with salt and pepper. Spread vegetables on a baking sheet and roast vegetables for 25 minutes.
Meanwhile, in a medium saucepan, heat the margarine over medium-high heat. Add the diced onions and minced garlic. Sauté until translucent and soft, about 5 minutes.
Sprinkle flour over the onions and garlic. Cook another 2-3 minutes until the flour is golden brown. Slowly whisk in the milk until combined and no lumps remain. Dissolve the vegetable bouillon cube in the 1/2 cup of hot water then slowly whisk into the sauce.
Once the sauce starts to thicken, reduce heat to a simmer. Add the dijon mustard and nutritional yeast if using. Season well with salt and pepper.
Combine the roasted veggies, dijon cream sauce, rice and corn. Pour into a square or oval casserole dish.
Combine the fresh chopped basil and panko bread crumbs. Drizzle with about 1 teaspoon of olive oil and mix well to coat the breadcrumbs. Sprinkle the basil breadcrumb mixture over the casserole.
Bake casserole for 25 minutes or until the top is starting to brown and the sauce is nice and bubbly. Allow casserole to rest for 10 minutes then garnish with additional fresh chopped basil.
Source: inspired by Cook Like a Champion