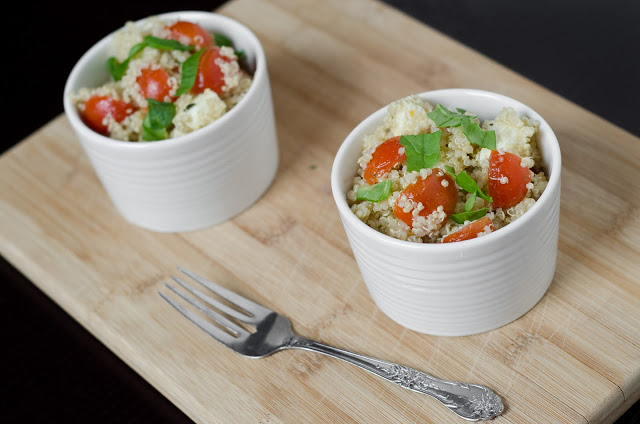 I'm sure by now, many of you will have heard about the newest superfood – quinoa. It's a a high protein seed (ancient grain) that is ideal for those following a gluten free diet or anyone looking to add a new vitamin rich, fibre-filled food to their diet. It's very versatile and can be used in so many recipes. For Christmas, I received the cookbook Quinoa 365. I cannot believe how many ways quinoa can be used – from salads, to baking, as a breakfast cereal, to replacing rice and pasta in many dishes. 
This past summer, I decided that my Caprese Salad needed a nutritional boost, so I decided to try and make a Caprese Quinoa Salad. Turns out, the salad was not only delicious, but very filling. I've made the salad a number of times to pack for lunch or as a side salad with dinner. It would be a great salad to bring to a BBQ or a potluck. This salad is a great way to begin incorporating quinoa into your diet if you are new to this fabulous super food. Quinoa is especially good for vegetarians and vegans, as it provides complete protein.
Ingredients
1 and 1/2 cups of uncooked quinoa

1 batch of homemade bruschetta mix

2 tablespoons of pine nuts; toasted

8 balls of bocconcini cheese; cut into quarters (optional)

fresh basil; chopped (for garnish)

fresh spinach; chopped (optional)
Method
1. Place the uncooked quinoa in a fine-meshed sieve. Run the quinoa under warm water for a minute or so. Note: Unrinsed quinoa has a bitter coating that could affect the taste of your salad. So, make sure you rinse it well. Also make sure to pick out any debris from the quinoa. 
2. Bring three cups of water to a boil. Add the rinsed quinoa. Cook the quinoa on medium-high heat for about 10 minutes. The quinoa will soften up and will split open a bit to reveal cute little curly tails.
3. Once the quinoa is cooked, strain it and rinse with cold water. Place the quinoa in a bowl. Add the bruschetta mix and stir to combine. Note: if you find that there is not enough dressing, you can add a touch of olive oil and red wine vinegar.
4. Add the pine nuts and bocconcini cheese pieces. Toss. Allow the mixture to come to room temperature. Note: allowing the salad to sit for about 30 minutes enables all of the flavours to merry. Garnish with chopped fresh basil.
Note: To make this vegan, I would recommend adding chunks of pressed tofu right into the bruschetta mix and allow it to sit in the fridge for at least an hour. The tofu will soak up some of the flavours of the bruschetta. Then you can make the salad as above.
You can also bump up the nutritional content by adding some chopped fresh spinach into the salad.
Source: Courtney Jones