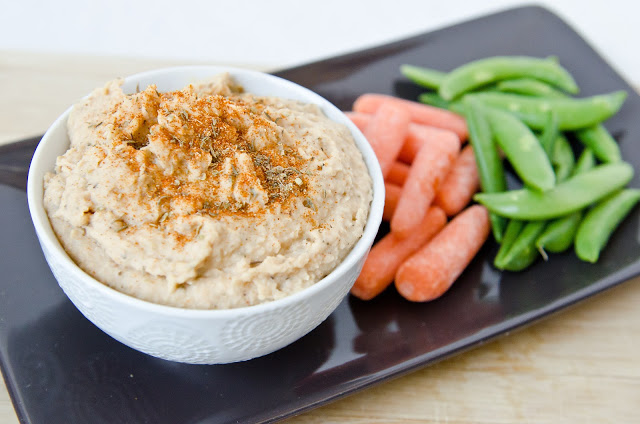 Hello! I hope that all of my friends in Canada and the Northern United States are keeping warm. On the Canadian Prairies today, it's -40'C (-40'F). Brrrrr! This bloody cold weather has me longing for spring or an impromptu winter getaway. Hmmmm. Alas, since I have no vacation time left until April, I guess the winter getaway is out of the question. So, I will have to find other ways to wait the winter season out. Staying in the kitchen and cooking seems to be a great way to stay warm and be creative. Using ingredients that pack a little heat also seems to help the situation. 
Lately, I've been experimenting with adding Cajun seasoning to a variety of dishes including stews, soups, roasted veggies and now this dip in an effort to warm things up a bit around here. And let me tell you, this dip is delicious. I was slightly surprised, as I've had bean based dips many times. They've all been yummy, but they have started blending together in my mind. The nice sweet, smokiness from the paprika really made this dip a bit different. The lime lightened it up nicely and the cayenne packed a little bit of heat. I enjoyed this dip with raw veggies, but I would imagine it is really nice on a sandwich as a spread too. I highly recommend trying to make your own simple Cajun seasoning. It's more economical than buying a specialty blend at the store and creating your own allows you to choose how spicy you want the mix.
If you are looking for a healthy appetizer option to serve at your upcoming Super Bowl party, I highly suggest this dip. It's high fibre + protein and is full of flavour. It's also a great vegan option! 
Ingredients
1 (19 oz) can of white kidney beans, rinsed and drained

juice of one small lime

2 tablespoons of extra-virgin olive oil or canola oil

1/2 tablespoon of Cajun seasoning (recipe to follow)

1 small clove of garlic

1/4 cup of finely chopped red bell pepper

1/4 cup of finely chopped yellow bell pepper

raw veggies for dipping (carrots, snap peas, peppers, cauliflower etc)
Cajun Seasoning
1/4 cup of paprika

1/4 cup of dried parsley

1 tablespoon of garlic powder

1 tablespoon of dried oregano

1 tablespoon of dried thyme

1/2 teaspoon of salt

1/4 teaspoon of cayenne pepper
Combine all of the spices + herbs together in a jar. Recipe yields 1/2 cup of seasoning and keeps fresh for about a month. Use cajun spice mix in dips, soups, stews and in marinades.
Method
1. Purée the beans, juice of one small lime, cloves of garlic, oil and Cajun seasoning together in a food processor until creamy and smooth.
2. Transfer dip to a serving bowl and mix in the finely chopped pepper. Sprinkle with a touch of Cajun seasoning. Allow dip to sit for about 15 minutes to allow flavours to meld. Serve with your favourite raw veggies.
Yield: 4 to 6 servings
Source: Bean dip adapted from Whole Foods website; Cajun seasoning from Canadian Living website