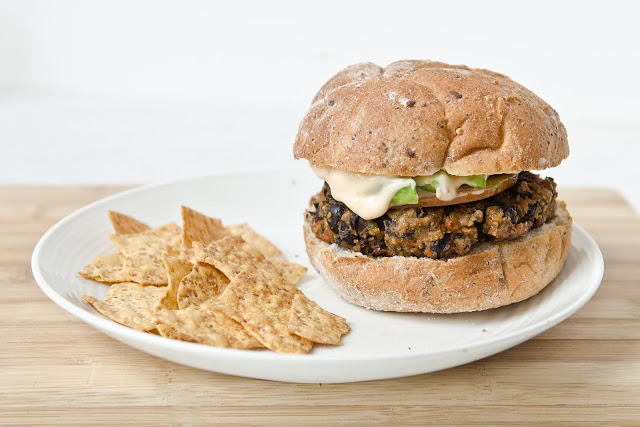 It's no secret – I adore veggie burgers. I think I've mentioned this fact a number of times on The Fig Tree over the past few years. Sorry for the redundancy…but I freaking love veggie burgers! *hehe* Every time I see one on a menu, I inevitably have to order it. For me, there's nothing more satisying or filling than a really good veggie burger. I've had some incredible veggie burgers at a number of restaurants (such as
Stellas'
,
Black Bird Café
,
Le Garage Café
and
Baked Expectations
), but have had a bit of trouble creating the perfect veggie burger at home.
For me, a veggie burger has to be soft on the inside without being too gummy. It must be crispy on the outside and full of flavour. And it has to hold up well to cooking/grilling and be the perfect canvas for an assortment of garnishes. I've come close to finding the perfect veggie burger to make at home with my
Mediterranean Quinoa Burgers
and my
Butternut Squash Nut Burgers
. They are really delicious! However, this Black Bean Burger has exceeded all of my expectations. Since you cook them from frozen, the stay together well on the grill or in a frying pan. The exterior becomes crispy, but the interior remains soft. They have a lot of flavour and the recipe can easily be adapted to change up the flavour profile. Making a large batch and freezing them is ideal, as you can just heat up a few whenever you are craving a really good veggie burger regardless of the time of year.
What are your favourite toppings to put on a veggie burger?
Ingredients
2-16 ounce cans of low-sodium black beans, rinsed and drained
1 red bell pepper, cut into 2-inch pieces
3 tablespoons of chopped flat-leaf parley or cilantro
4 cloves of garlic, peeled
2 large eggs (or 2 flax eggs)
1 teaspoon of onion powder
1 heaping tablespoon of cumin
1 teaspoon of chili powder
1/4 to 1/2 teaspoon of kosher salt
1/2 cup of panko bread crumbs (optional)
1 cup of quick oats (can use gluten free oats)
8 whole wheat (or gluten free) burger buns
Method
Mash black beans. Note: I leave a 1/4 of the beans whole for texture.
In a food processor, finely chop the red bell pepper, the parsley (or cilantro), and garlic. Add in the oats, eggs (or flax eggs), cumin, onion powder and chili powder. Season with salt and pepper. Pulse mixture until everything is finely chopped. Stir mixture into the mashed beans. Mix in panko if using.
Chill the mixture for 30 minutes, so it is easy to handle. Once well chilled, form eight patties and place them on a baking sheet lined with parchment paper or wax paper.
Freeze burgers on the baking sheet for 2 hours. Store burgers in a freezer safe container or plastic bag. Keep burgers frozen until ready to cook, so that they keep their shape nicely while cooking. You can pan fry, BBQ or bake these burgers.
To Cook: Heat 2 tablespoons of canola oil in a large frying pan. Pan fry the burgers until the outsides are nicely crisp and the middles are hot (about 7 minutes per side).
To Grill: Preheat the grill over medium heat and lightly oil a sheet of aluminum foil. Grill the burgers for 7 to 8 minutes per side.
To Bake: Bake at 375'F on a lightly oil baking sheet until burgers are slightly crispy and heated through.
Garnish burgers are desired. I love to garnish these black bean burgers with fresh tomato slices, avocado and a little sweet + spicy mayonnaise (1/2 cup of mayo and 3 tablespoons of sweet chili sauce)