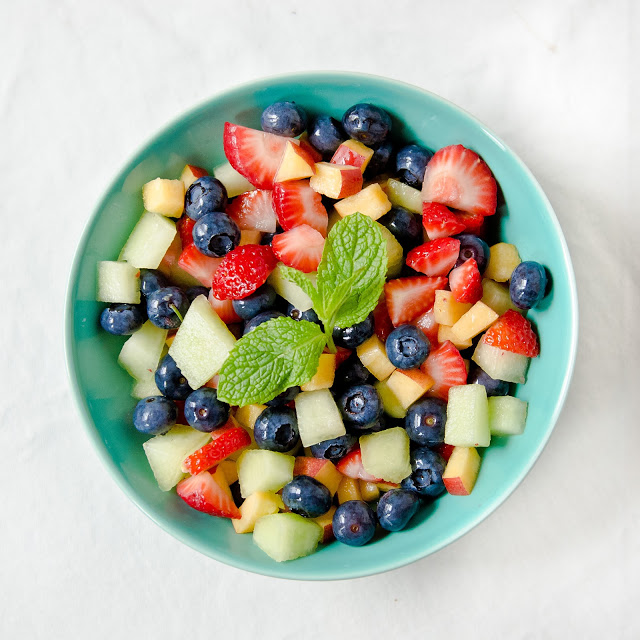 This fruit salad is yummy. So yummy in fact that every time I bring it to any event, someone inevitably licks the bowl clean after all the salad is polished off. *hah* That is a sign of a real winning recipe! This salad is summer at its best. Fresh berries, crisp grapes and sweet nectarine – all of summer's best fruits. The lime and mint syrup makes this fruit salad irresistible! You can easily substitute peaches for the nectarines. And, I recommend adding in some honeydew melon chunks. They are always a nice touch. Feel free to add in any of your favourite summer fruits. If you add in watermelon, be sure to add it right before serving. I find it can become a bit soggy and water down the salad.
 This recipe makes more syrup than is needed for one bowl of this salad, but it keeps well in the fridge. You'll be able to whip up a second serving of this salad in no time. This salad is wonderful served on angel food cake and topped with fresh whipped cream. It's also great over top coconut milk ice cream. Yum!
Hope you are all having a fantastic week. I'm thrilled, as today (Tuesday), is my Friday! I have the rest of the week off to enjoy the Winnipeg Fringe Festival. The Fringe Festival is like Christmas for me. I LOVE Fringe! It's 10 days where the entire downtown area comes alive with live theatre and performances. I try to attend as many plays as possible each year and take in some of the free concerts in the Old Market Square. Thursday, my sister and I will be having our annual Fringe Festival lunch date where order falafel sandwiches, fresh lemonade and watch all of the extremely interesting people wandering the fest. 
Happy Fringing to my local readers! Be sure to check out as many plays as possible! Let me know if you've seen any particularly good shows :)
Ingredients
1/3 cup of granulated sugar or 1/4 cup of agave syrup

1/4 cup of fresh mint leaves

2 tablespoons of lime juice (or lemon juice)

2 cups of seedless grapes, halved

2 nectarines, cut into 1 and 1/2 inch pieces

1 cup of sliced fresh strawberries

1 cup of fresh blueberries

1/2 cup of fresh raspberries
Method
1. Bring sugar and 1/2 cup of water to a gentle boil in a saucepan. Simmer for 2 minutes , remove from heat and stir in the mint and lemon juice. Steep for 15 minutes and strain out the mint.
2. Combine the grapes, nectarine, strawberries, raspberries and blueberries in a large bowl. Stir in the sugar/mint syrup. Cover and chill for 2 hours, or overnight.
Source: adapted from Vegetarian Times July 2009