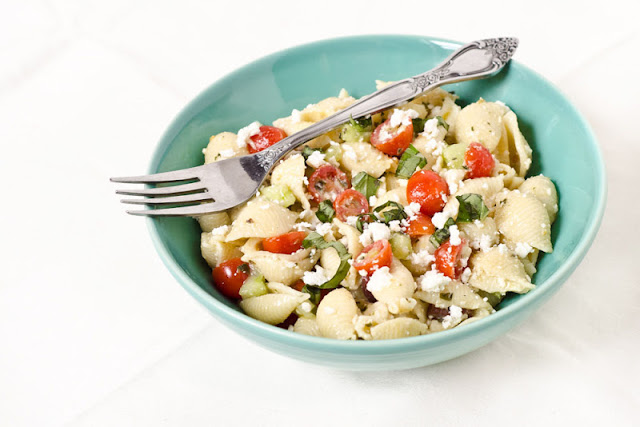 With this wonderful unseasonably warm March weather, I cannot help but day dream about the upcoming summer. My mind keeps wandering to lazy days on the beach, picnics, late nights on patios, fresh fruit, summery cocktails, evenings surrounding the bonfire with friends, and many, many barbecues. BBQ season may not be that far off this year. I heard that the golf courses across the city opened up today – way earlier than usual! All of these thoughts have me craving one of my favourite salads – one I bring to almost every BBQ i'm invited to in the summer. This recipe was given to me by one of my best friends Sheila. She got the recipe from one of her many Jaime Oliver cookbooks. The original recipe does not call for olives, feta or pine nuts. The ingredients I added to this classic pasta salad is to "Courtney-ize" the salad – as Sheila would say *hehe* It's a fantastically delicious pasta salad. Make sure to use fresh basil in this recipe. It really brings out the best in the salad. Bring this to your first BBQ of the season, and I guarantee you'll be invited to another BBQ…and another…and….etc :)
Ingredients
1 pound of small shell-shaped pasta (plain, whole wheat or gluten-free)

3 cloves of garlic

1 pint of red cherry tomatoes

1/2 cup of chopped kalamata olives

1 handful of fresh basil

1/2 a large cucumber

3 tablespoons of white wine vinegar

5 tablespoons of extra virgin olive oil

1 teaspoon of white sugar

sea salt and pepper (to taste)

1 cup of low-fat feta cheese; crumbled

1/4 cup toasted pine nuts (optional)
Note: for my lovely vegan friends, you can easily replace the feta cheese in this salad with homemade almond "feta cheese". 
Method
1.Bring a large pan of salted water to a boil. Remove skin from the cloves of garlic. When the water begins to boil, add the pasta and cloves of garlic. Cook the pasta until it's al dente (firm bite). Drain the pasta and run under cold water to stop the cooking process.
2. Meanwhile, cut the cherry tomatoes in half and dice up half a cucumber. Note: I normally take the skin off the cucumber, but feel free to leave it on. Chiffonade the basil.
3. Remove garlic and place pasta in a serving bowl. Add the cucumbers, tomatoes, fresh chopped basil and chopped kalamata olives. Sprinkle crumbled feta on top of pasta.
4. Roughly chop the garlic. Then, using the back of a fork, mash the garlic into a paste. Whisk together the mashed garlic, olive oil, white wine vinegar, sugar, salt and pepper. Once well combined, add the dressing to the pasta and toss well to combine.
Allow the pasta salad to sit in the fridge for at least an hour to allow the flavours to meld. Serve and enjoy!
Source: based on a recipe by Jaime Oliver