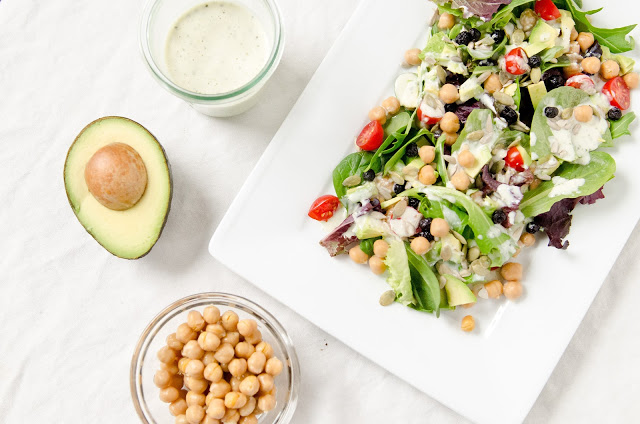 I don't know about you, but sometimes I just want a large, fresh salad for dinner. I'm talking a salad that's a meal in itself – one that can double as a main dish. Take a cobb salad for instance. A cobb salad is the perfect light meal that is actually quite filling. It's also well balanced with protein, fibre and fresh veggies. 
A traditional cobb salad generally consists of avocado, bacon, tomatoes, eggs, chicken and blue cheese. But since I'm a vegetarian, I have not had a traditional cobb salad in ages. 
When I was in Edmonton in December for work, I was lucky enough to go to a restaurant that served a fully vegetarian cobb salad. Now, it was not a cobb salad in the traditional sense. It did not have eggs, bacon or chicken.
It did, however, have green lentils, fresh greens, couscous, a variety of seeds, avocado, cherry tomatoes and dried blueberries. It was wonderful and so incredibly filling. What I loved most about the salad was how creative it was. It was a great mixture of some of my favourite fresh, flavourful ingredients.
This past week, I decided to try making my own version of a vegetarian cobb salad at home. I love chickpeas, so I had to include them. I also love a blend of baby spinach and arugula, so I threw them into the mix. For some crunch, I added in a mixture of pumpkin and sunflower seeds. I also added in some cucumber slices, chunks of avocado, cherry tomatoes halves and some dried fruit. I tossed everything with a homemade basil pesto ranch dressing and had a delicious, quick weekday dinner. I highly recommend giving a vegetarian cobb salad a try at home. Be creative and have fun with the ingredients. Use what's fresh and in season and you can't go wrong :)
Ingredients
salad mix (romaine, arugula, baby spinach)

1 medium avocado, diced

1 cup of canned chickpeas, rinsed and drained

1/2 cup of diced cucumber

1/4 cup of pumpkin seeds

1/8 cup of sunflower seeds

1 cup of cherry tomatoes; cut in half

1/4 cup of dried blueberries or cranberries

Method
1. Place salad mix in a nice serving dish. Distribute the chickpeas, cherry tomatoes, chopped avocado and diced cucumber evenly over the salad. Sprinkle pumpkin seeds, nuts, and dried fruit over top. Drizzle salad with the basil pesto ranch dressing. Serve!
Yield: 2 to 4 servings
Source: Courtney Jones (inspired by Lazia Restaurant in Edmonton)