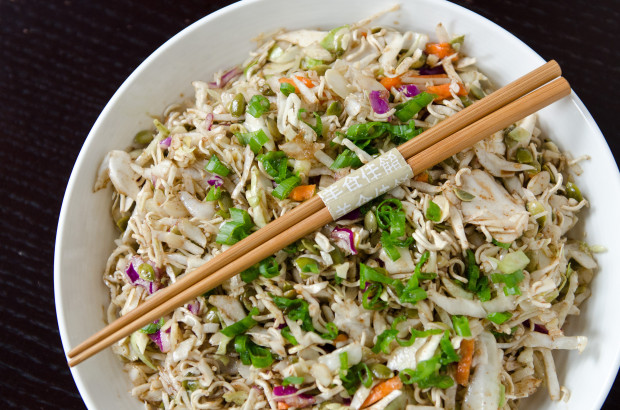 Growing up, I absolutely hated salads. To be honest, I hated almost all vegetables. My poor mom had her hands full when I declared at 15 that I was going to be a vegetarian. "What are you supposed to eat!?" she said. "You hate vegetables!" A few years later (and after way too many white starchy foods), I finally learned to love vegetables and started eating salads daily. This Crunchy Asian Coleslaw was one of the first salads that caught my fancy. Recently, I was reminded of this salad and asked my mom for the recipe.
The original recipe calls for a pack of instant ramen noodles. The dressing is made with the seasoning packet that comes inside. After looking through the ingredient list on the seasoning packet, I realized that a homemade spice mixture would yield a dressing much lower in sodium, without MSG and without any added meat flavouring. Almost all of the instant ramen noodle packs I could find had chicken, shrimp or beef flavour – not something a vegetarian cares to see on an ingredient list.
After a bit of trial and error, I was able to re-create the flavour of the seasoning packet without all of the preservatives and additives. I used ingredients that I already had in the cupboard such as garlic, onion and ginger powder. Whisk the spice mix with some soy sauce, canola oil, a splash of sesame and balsamic vinegar and you've got a delicious, simple mixture to dress up this coleslaw. Add in some crushed up dry ramen noodles, some pumpkin seeds, slivered almonds and sunflower seeds for some extra crunch. This salad brings back some great memories of BBQs and summer picnics with the family. I love how some foods can bring back such great childhood memories.
Ingredients
4 cups of shredded cabbage
1 cup of dry ramen noodles, broken into small pieces
1/2 cup of sliced almonds
1/4 cup of pumpkin seeds
1/4 cup of sunflower seeds
1/3 cup of canola oil
1 teaspoon of sesame oil
3 tablespoons of balsamic vinegar
1 tablespoon of low-sodium soy sauce or tamari
1 tablespoon of white sugar, honey or agave
1/2 teaspoon of ground ginger
1/2 teaspoon of garlic powder
1/2 teaspoon of onion powder
2 green onions, chopped
Method
In a small bowl, whisk together the canola oil, sesame oil, vinegar, soy sauce, sugar and spices. Set aside.
In a large salad bowl, combine the shredded cabbage, dry ramen noodles, sliced almonds, pumpkin seeds and sunflower seeds.
Drizzle salad with 1/2 of the dressing. Toss to combine. Taste and add more dressing as desired. Allow salad to sit for 10 minutes before serving to allow flavours to develop. Garnish with green onions.
Source: The Fig Tree