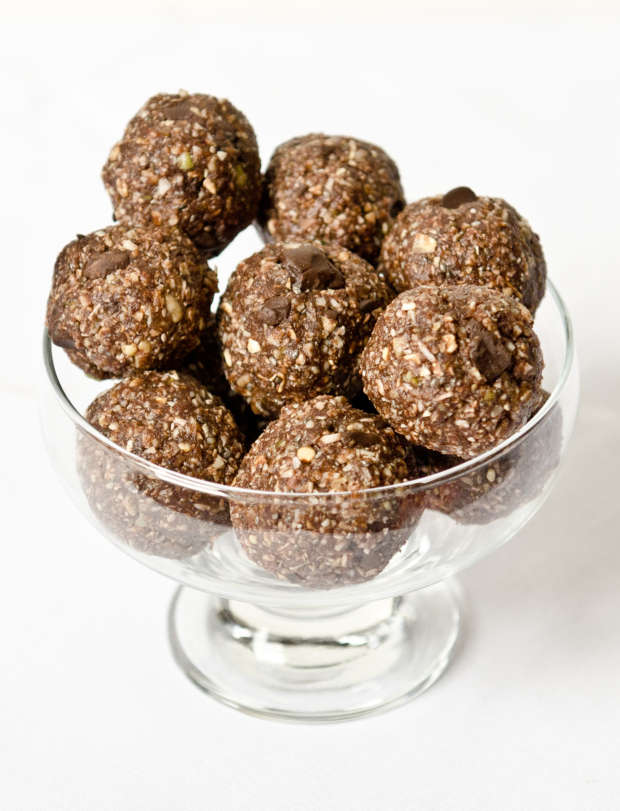 Although I eat a lot whole grains, vegetables and legumes throughout the day, I have a bad habit of having something sweet after both lunch and dinner. It's a habit that I'm trying to break, as I know sweet treats should be…well…treats! They should not be a twice-a-day sort of thing. Nor should they be full of processed sugar and oil. But I'm such a sucker for my mom's vegan chocolate raspberry shortbread bars. *drools* As of late, I've been trying out different "treat" recipes that are made with natural sugars (mainly pure maple) and filled with both protein and fibre. These energy bites fit the bill AND they are so decadent and chocolately. *swoons*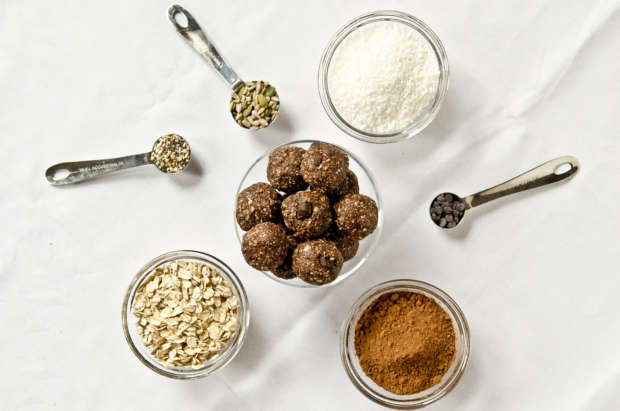 These double chocolate bad boys are incredibly easy to make. The base is a combination of rolled oats (ground into a coarse flour), pure maple and unsweetened almond butter. Some cocoa powder, shredded coconut and pure vanilla extract flavour these bites perfectly. Add in some sunflower seeds, pumpkin seeds, and omega-3 packed chia seeds and hemp seeds and you've got a high-fibre, high-protein treat with healthy fats. To make things a little indulgent, I add a quarter cup of dairy-free chocolate chips. I like the Enjoy Life brand of chocolate chips best. You can swap out the chocolate chips for cocoa nibs or carob chips. Each ball is only 100 calories and is guaranteed to make your sweet tooth happy. These are truly the best afternoon pick-me-up.
Wishing you all a truly wonderful day. xo
Double Chocolate Coconut Energy Bites
Easy, all-natural protein bites packed with healthy seeds (pumpkin, chia, hemp and sunflower) and lightly sweetened with maple. The cocoa powder and chocolate chips give these energy bites a bit of an indulgent feel, but they are loaded with good-for-you ingredients and full of fibre.
Ingredients
1 cup of rolled oats
3/4 cup of unsweetened coconut
1/4 cup of pumpkin seeds
1/4 cup of sunflower seeds
2 tablespoons of unsweetened cocoa powder
1/2 cup of unsweetened almond butter
1/4 cup of pure maple syrup
1 teaspoon of pure vanilla extract
2 tablespoons of chia seeds
1 tablespoon of hemp seeds
1/4 cup of mini dairy-free chocolate chips or cocoa nibs
Method
Add the rolled oats, cocoa powder, shredded coconut, pumpkin seeds and sunflower seeds to the bowl of a food processor. Pulse until the oats/seeds become a coarse meal.
Pour in the pure maple syrup, almond butter and pure vanilla extract. Pulse 2-3 times to combine.
Mix in the chia seeds, hemp seeds and dairy-free chocolate chips. Add 1-2 tablespoons of water if the mixture appears too think. Place energy bite mixture in the fridge for 10 minutes, so that the dough is easier to roll.
Scoop out one heaping tablespoon of dough and roll into a ball with your hands. Continue with all of the remaining dough.
Store in an air-tight glass container in the fridge for up to a week.
Source: The Fig Tree