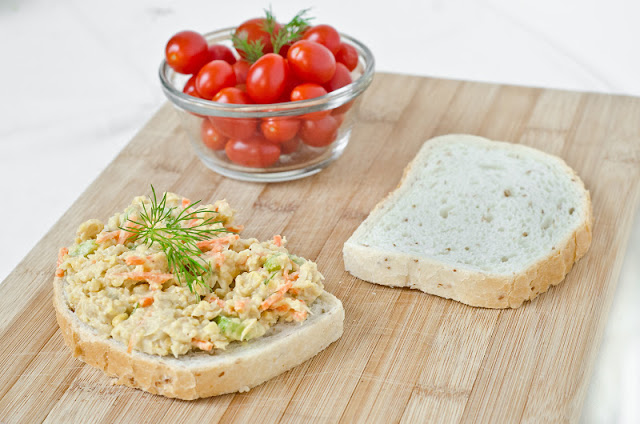 Even before I became a vegetarian, I disliked tuna salad sandwiches. My mom made them all of the time, but I always refused to try one. Believe it or not, I was the most picky eater on the planet when I was a kid. I refused to eat any vegetable unless it was cauliflower doused in cheese sauce. Even when I became a vegetarian at 15, I still hated vegetables! *hah* I was the least healthy vegetarian possible back in the day. I hate whole grains. I hated tofu. My whole diet consisted of pasta and white bread. No wonder my poor mom was worried when I declared I wanted to be a vegetarian! Thankfully, over the years, I've grown to adore vegetables & whole grains. I am slowly coming around to tofu – (I still don't love the texture). And I love lentils, beans, nuts, seeds etc. Yay for growing up & maturing tastes!When I came upon this recipe for "Better-than-Tuna" sandwiches, I was intrigued. It has so many of the ingredients that my mom used in her tuna salad sandwiches, but flaked chickpeas are used in place of the flaked tuna. And I have to say, it is delicious!!! We had these sandwiches for lunch yesterday and it was a real hit. The "tuna" salad spread was easy to throw together and made enough for a few lunches this upcoming week. I love the addition of the chopped almonds. The chopped nuts and diced celery really add to the texture of this salad. And the flaked chickpeas = pure genius! Jesse said the texture and taste is very reminiscent of a real tuna salad sandwich – maybe without the fishiness. *hah*
This sandwich could provide you with some variety – a nice change from the usual tuna salad sandwich. It's a great healthy alternative with tons of fibre and protein. Give it a shot. I promise it's worth a try. :)
Better-than-Tuna Salad Sandwich
Ingredients
2-15 ounce cans of chickpeas; drained and rinsed
1/2 cup of low-fat mayonnaise or eggless mayonnaise
1 red pepper; finely chopped
2 carrots; peeled and grated
2 stalks of celery; washed and finely chopped
1/2 cup of walnuts or blanched almonds; chopped
1 tablespoon of dijon mustard
salt & pepper
2 tablespoons of fresh herbs; chopped (ex. dill, parsley, chives etc)
Method
Place the rinsed chickpeas in a food processor and pulse them about 5 times. You want to get the chickpeas to flake slightly. Be sure to avoid turning them into a paste or a purée.
In a bowl, mix the mayonnaise with the dijon mustard, salt and pepper. Add the chickpeas, almonds or walnuts, grated carrots, chopped pepper and chopped celery. Sprinkle in the fresh chopped herbs. Mix well to combine.
Use the spread on some nice whole grain bread to make a delicious sandwich. Add some thinly sliced radishes to make the sandwich even more delicious.
Notes: If you don't like using canned beans, you can use 3 cups of fresh beans soaked and cooked from scratch for this recipe. Also, I like to use vegan mayonnaise in this recipe. I find that Vegenaise is the best brand out there. It tastes better than regular mayo!
Source: The Vegan Table by Colleen Patrick-Goudreau