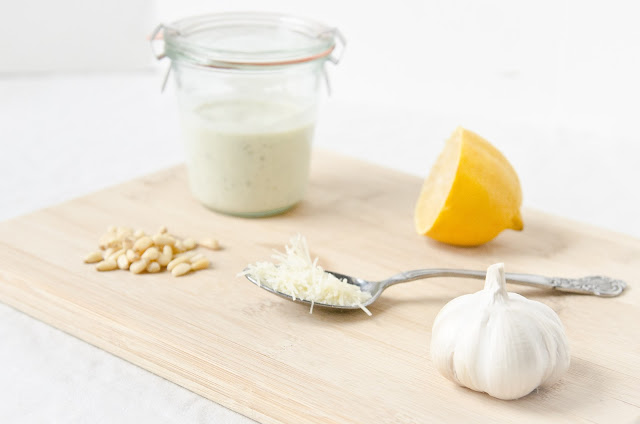 Just a quick little post for this fine Wednesday evening. Today I made a delicious vegetarian cobb salad with pesto ranch dressing. The dressing alone was fantastic and now I want to put it on everything! *hehe* It would also be great as a dip for raw veggies. I'm a huge fan of veggies and dip!
Hope you are all having a wonderful week. Tonight I met up with two friends visiting from Japan. It was so lovely to see them! I am hoping to go to Japan in the next 2 year to visit them. Cannot wait :) It's been my dream to go to Japan for as long as I can remember!
I'll be back tomorrow with my version of a vegetarian cobb salad (drenched in this awesome dressing!)
Ingredients
1/3 cup of low-fat mayonnaise (or vegan mayo)

1/4 cup of skim milk (or almond milk)

juice of half a lemon

1 clove of garlic, chopped

1 tablespoon of pine nuts

1 heaping tablespoon of grated parmesan cheese (optional)

handful of fresh basil leaves

salt and pepper to taste
Note: you can use 2 tablespoons of store-bought pesto in a pinch to replace the garlic, pine nuts, grated parmesan and fresh basil leaves
Method
1. Whisk together the milk and lemon juice. Allow the mixture to sit for 5 minutes. This will create a quick buttermilk perfect for ranch dressing.
2. Whisk the homemade buttermilk into the mayonnaise. If the dressing is too runny, add a little more mayo or even some low-fat sour cream.
3. Add in the chopped garlic, pine nuts, parmesan cheese and fresh basil leaves. Purée mixture together in a food processor or with a hand immersion blender until smooth. Season with salt + pepper. 
Store dressing in an airtight container in the fridge for up to 2 days.
Yield: makes about 3/4 cup of dressing
Source: Courtney Jones