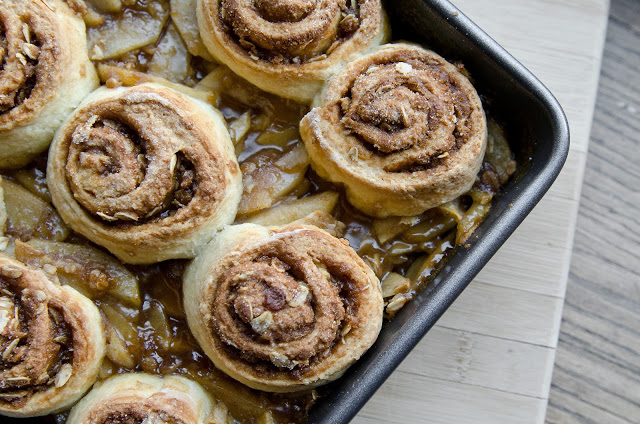 Hello! Hope you are all having a wonderful weekend. My weekend has been really nice and relatively relaxing! Yesterday, my dad took my sister and I out for lunch at a local french restaurant called Le Garage. Dad and I both had a veggie burger for lunch and have concluded Le Garage has the best vegetarian burger in town. The black bean patty has a perfect crunchy crust and is doused in a homemade sweet-chile mayo. Amazing! After lunch, we headed out to do some Christmas shopping all together. It was a really nice way to kick off the season together. After spending the day with my dad and sister, I met Jesse to help our friend move to his new house. The move when fairly quickly and then we celebrated by going out for Indian food. I had the best navrattan korma last night. Yesterday was a really good food day. *hehe*
Today, I decided to watch some CFL football playoffs and do some baking. First thing on my list was this Cinnamon Bun Apple Cobbler. Jesse adores cinnamon buns and equally loves apple crisp. When I stumbled upon this recipe recently, I immediately thought of him and decided I needed to make it as a treat for him.
 Although it looks like a lot of work, the cobbler itself is pretty easy. The cinnamon buns are more of a buttermilk biscuit with no yeast as you'd find on top of a usual cobbler. Therefore, there is no need to let the dough rise. The dough itself was very easy to handle. Time spent on baking this dish is definitely worth it. I made the cobbler earlier this afternoon, so we could each enjoy a serving with tea later today. We both devoured our share and contemplated having a second serving. Hmmm…we'll have some more for dessert after dinner later. *hehe*
What I loved best was that the cinnamon buns had a slight crunch on top, but remained soft and chewy otherwise. It was a great contrast to the soft, caramel apples underneath. I think this would be the perfect thing to serve at a holiday brunch. It's simple, but seems extra special. A true winner for all of the family to enjoy!
I'll be back on Tuesday with a new recipe for Vegan Tuesdays! I cannot wait to share it :)
Filling Ingredients
1/3 cup of unsalted butter, softened*

1 and 1/4 cups of packed brown sugar

2/3 cup of large-flake rolled oats (not instant)

1/3 cup of all-purpose flour

1/2 teaspoon of ground cinnamon

pinch of salt

8 sweet-tart baking apples; peeled, cored and thinly sliced
Cinnamon Bun Ingredients
1 and 1/2 cups of all-purpose flour

2 tablespoons of granulated sugar*

1 teaspoon of baking powder

1/4 teaspoon of baking soda

1/4 cup of cold unsalted butter, cubed*

pinch of salt

2/3 cup of buttermilk* (2/3 cup of milk + 1/2 tablespoon of white vinegar)
Topping Ingredients
2 tablespoons of granulated sugar*

1 teaspoon of ground cinnamon

2 tablespoons of butter, melted*
* If you want to make this vegan, you can use a vegan butter substitute, vegan granulated white sugar and buttermilk made with diary-free milk with some vinegar 
Method
Filling
1. Combine the flour, rolled oats, brown sugar, salt and cinnamon in a large bowl.
2. Add in the softened butter and mix well with your hands to ensure butter is well distributed into the filling. Reserve 1 cup of the filling.
3. Toss the non-reserved filling with the apple slices. Place the apple filling into an 8-inch square baking pan or baking dish. Press down and set aside. Preheat oven to 375'F.
Cinnamon Buns
1. In a medium bowl, whisk together the flour, sugar, salt, baking powder and baking soda. Using a pastry blender or two forks, cut in the chilled butter until crumbly. Drizzle with the buttermilk, tossing with a fork to make a shaggy dough.
2. Turn out dough onto a lightly floured surface. Knead the dough 6 times (until the dough comes together). Roll out the dough into an 8 inch square. 
3. Sprinkle the reserved filling on top of the dough. Press to adhere.
4. Roll up the dough into a cylinder. Cut crosswise into 9 pieces. Arrange the pieces on top of the apple crumble filling.
Topping
1. Stir the sugar with the cinnamon. Brush bun tops with melted butter. Sprinkle buns with the sugar/cinnamon topping.
2. Bake at 375'F oven until the top is puffed, golden and the filling is bubbly (about 50 minutes). Note: cover the top with foil if the cinnamon buns are browning too quickly. 
Yield: 9 individual servings
Source: Canadian Living Christmas Edition 2012