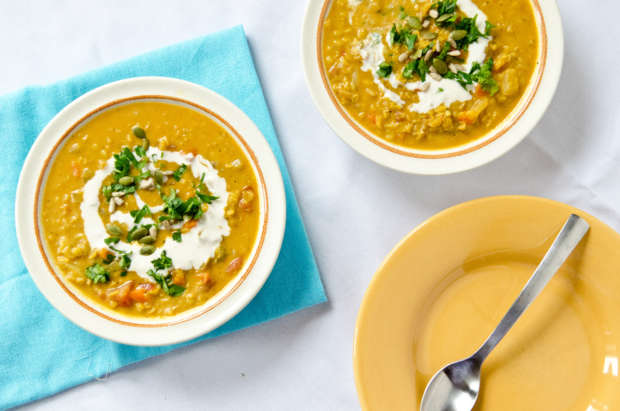 Just like many of you, I've been trying to eat healthier in the new year. I ended 2014 having made some significant changes to my diet and lifestyle – the main one being I went vegan in August. Since January 1, 2015, I've not been eating any processed sugar and have been trying so very hard to get more greens into my diet. I love greens, but I often forget about them! Poor little, forgotten greens! I've also been trying to do more food prep on the weekends, so that we are more prepared on weekdays leading to healthier meals and healthier snacks. I've been prepping veggies, making a huge pot of brown rice, and putting together energy bites for healthy snacking. This weekend, I'd like to make my own whole-wheat bread with seeds and perhaps some homemade granola bars. The trick is to set aside 2-3 hours on the weekend to prep your food for the week. I find planning ahead is key when you have nutrition goals you'd like to attain. Meal prep doesn't have to be boring! Every weekend, I choose a new recipe to try. I put on some music or some House Hunters International (love me some House Hunters International!) and I get cooking. Having everything prepped in advance is a huge life saver during the week when I'm working overtime or rushing off to classes. Even if your weekends are busy, it's a good idea to at least put some time aside to pre-chop veggies and store them in airtight glass containers in the fridge. Pre-chopped veggies are great for throwing together a salad, curry, stir-fry, pasta dish or even for snacking paired with some hummus.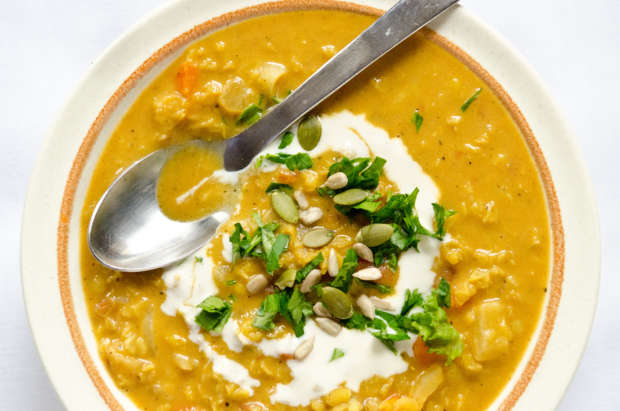 This stew is ideal for weekend meal prep. You basically throw a bunch of veggies, lentils and spices in a pot. Then you allow it all to simmer together for 25 minutes and you end up with a delectable, hearty stew with tons of flavour (and protein & fibre). Store the stew in the fridge and then re-heat for a fabulous weeknight meal. Serve with a side salad and some crusty, whole-grain bread and you're set!
Curried Coconut Lentil Stew
A quick and easy yet deliciously hearty lentil soup flavoured with warm spices and creamy coconut milk. The perfect, cozy soup for a cold night in.
Ingredients
1 tablespoon of coconut oil
1 large yellow onion, finely chopped
3 cloves of garlic, minced
2 medium carrots, diced
4 stalks of celery, diced
1-14 oz can of diced fire-roasted tomatoes
1 teaspoon of ground ginger
1 teaspoon of ground turmeric
1 teaspoon of ground coriander
1 tablespoon of ground cumin
1 teaspoon of ground cinnamon
Pinch of cayenne for heat (optional)
1 teaspoon of fine sea salt
1/2 teaspoon of ground black pepper
1 cup of red lentils, rinsed
3 and 1/2 cups of low-sodium vegetable stock or water
1-14 oz can of coconut milk (low-fat is fine), well-shaken
Juice of one lime
Fresh chopped cilantro for garnish
Method
In a large pan, heat coconut oil over medium-high heat. Add onions, carrots and celery and sauté for 8 minutes or until the onions are translucent and starting to brown.
Add the garlic and sauté another minute. Add the ground ginger, ground turmeric, ground coriander, ground cumin, cayenne (if using) and ground cinnamon. Heat through another minute or so, until the spices become very fragrant.
Add the diced fire-roasted tomatoes, vegetable stock (water) and 1 cup of red lentils. Bring to a boil, then reduce heat to a simmer. Cook stew over low-medium heat for 20 minutes, or until the lentils are nice and soft. Add more vegetable stock or water if the mixture becomes too dry.
Season soup with sea salt and pepper. Whisk in 3/4 of the can of coconut milk into the stew. Simmer another two minutes then squeeze in juice of one lime.
Ladle soup into bowls. Drizzle with remaining coconut milk followed by chopped fresh cilantro. Enjoy!
Source: loosely adapted from Vegan Divas Cookbook by Fernanda Copobianco