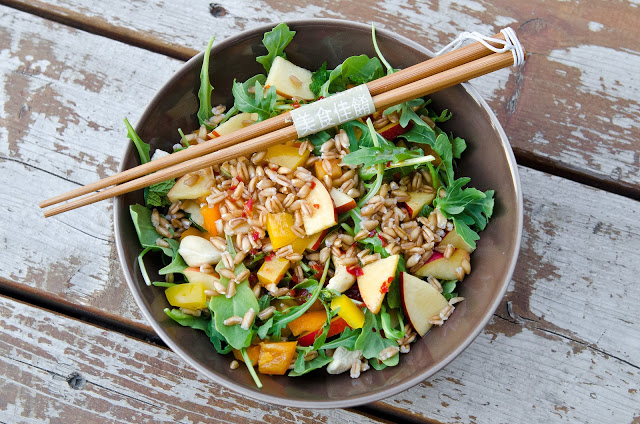 Hello! Finally, I am back and I have a brand new recipe to share – an amazingly delicious salad recipe! It feels like it's been forever since I last posted a food-related post. July and August have been incredibly busy. But I promise, this salad will make up for my absence. *hehe* 
This salad showcases the sweet, fresh nectarines (or peaches) that are currently in season. The sweetness is mildly tamed by the saltiness of the soy sauce, the spiciness of the chili-garlic sauce, the bitterness of the arugula and the sourness (is that a word?) of the fresh lime juice. It's bright and fresh tasting! The farro adds a really wonderful texture to the salad. 
Farro, if you've never tried it, tastes somewhat nutty and is very chewy. It works perfectly with this salad and absorbs a lot of the delicious dressing. Farro is an ancient grain that is also a low-gluten grain. It's not appropriate for our celiac friends, but it can be easier to digest for those with gluten-intolerance due to its low gluten content. [Source] It is also very high in fibre and has more protein per cup than quinoa or brown rice. [Source] Farro is also very filling, so this salad could easily be enjoyed as a highly nutritious lunch or light dinner. To the salad, I added a handful of cashews to bump up the protein value even more. But you could easily substitute the cashews with peanuts, almonds or even some fresh edamame beans. 
Hope you are all having a terrific week! My week has been pretty quiet this far – which is really welcomed after a very busy weekend. This past weekend, we spent a lot of time with good friends and family. On Friday, Jesse and I met some friends and we attended a 1-hour dance class in honour of our lovely friend Stephanie's birthday. We learned the Waltz and the Jive. It was a great time and we even did pretty well learning the Waltz. The Jive…however…was not my strong point. *hah* I'd need coordination for that! :) After our dance class, we went to watch Pirates of the Caribbean out in the park. It was really cool – the movie was projected onto a huge screen out in the park. We lounged on picnic blankets and shared snacks brought by my lovely friend Sheila. Saturday, I attended a bachelorette party for my friend Caitlin. Sunday, we attended a fun baby shower for our friends Glen + Mandie. And we ended the weekend with finally seeing the new Batman movie! I really enjoyed it, but it was too long! *hah* I have a very low attention span…
What was I saying again…? *hehe*
Ingredients
2 cups of water

1 cup of farro, well-rinsed

2 tablespoons of fresh lime juice

1 tablespoon of rice vinegar

1 tablespoon of hot chili-garlic sauce

1 and 1/2 teaspoons of soy sauce

1 and 1/2 teaspoons of sugar

pinch of salt

2 tablespoons of canola oil

2 fresh nectarines or peaches, sliced

1 sweet red pepper; diced

1 sweet yellow pepper; diced

2 cups of fresh arugula or spinach

2 tablespoons of finely chopped fresh mint or cilantro

2 green onions, chopped

1 cup of cashews (optional)
Method
1. In a medium saucepan, bring 2 cups of lightly salted water to a boil. Make sure the farro is well rinsed then add to the boiling water. Simmer farro until tender, but slightly chewy (approx. 15 minutes). Drain and rinse under cold water. Place in a large bowl and set aside.
2. Meanwhile, in a medium bowl, whisk together the lime juice, rice vinegar, chili- garlic sauce, soy sauce, sugar and salt until the sugar is dissolved. Whisk in oil.
3. Cut nectarines (or peaches) and peppers into 3/4 inch (2 cm) pieces. Add fruit and peppers to the farro. Toss and then add the green onions, arugula or spinach, mint and cashews (if using). 
4. Drizzle the salad with as much dressing as needed to coat. Toss well to combine.
Yield: 6 servings
Source: adapted from Foodland Ontario via Winnipeg Free Press