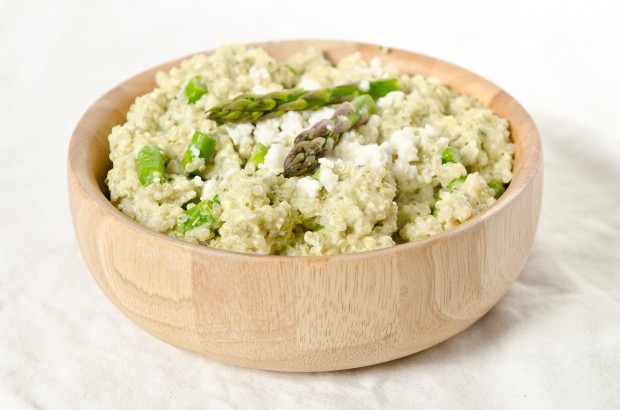 Yesterday, I saw a quote on Facebook – "What a wonderful winter we are having this spring" – and it made me chuckle because it's SO true. It's supposed to snow tonight and tomorrow here with no real signs of warming up anytime soon. Bah! I cannot wait for warmer weather. I'm anxious to go for long walks in the sunshine, go on countless picnics, and I cannot wait for the farmers markets to open up!
In an attempt to bring a little spring around to these parts, I created a delicious, creamy quinoa primavera loaded with green spring veggies such as asparagus, peas (or edamame) and broccoli. The primavera sauce is a fresh combination of lemon, basil, garlic, almonds and feta cheese – whipped all together until creamy. For my vegan friends, you can replace the feta cheese with your favourite brand of vegan cream cheese and the recipe will taste great!
Happy Friday everyone! Wishing you a fantastic weekend. xo
Creamy Lemon Basil Quinoa Primavera
Ingredients
1 and 1/2 cups of uncooked quinoa, rinsed and drained
2 and 1/2 cups of water (to cook the quinoa)
1/2 cup of sliced blanched almonds
2 cups of fresh basil leaves
1/4 cup of olive oil
1 clove of garlic
juice of one medium lemon
3/4 cup of reduced fat feta cheese (or 1/2 cup of vegan cream cheese)
1 large bunch of asparagus, trimmed and cut into 1-inch pieces
1 cup of frozen edamame or greens peas
2 cups of broccoli florets
Method
Bring 2 and 1/2 cups of water and the rinsed quinoa to a boil in a medium saucepan over medium-high heat. Once boiling, reduce heat to a simmer, cover and cook quinoa for 12 minutes. Remove from heat and set aside.
In a second medium saucepan, bring another 2 cups of water to a boil. Add the asparagus, broccoli florets and edamame (or peas). Reduce heat to low-medium and cook the vegetables for 5 minutes, or until slightly tender. Drain and set aside.
Meanwhile, in a food processor, blend the almonds, clove of garlic and olive oil. Add in the 2 cups of fresh basil leaves and lemon juice. Blend again to create a rough paste. Add the feta cheese and blend until creamy.
Once the cooked quinoa has cooled slightly, add the basil feta almond pesto and toss well to combine. Add in the cooked vegetables and mix.
Serve warm. Garnish with some crumbled feta and some asparagus tips. Enjoy!
Notes