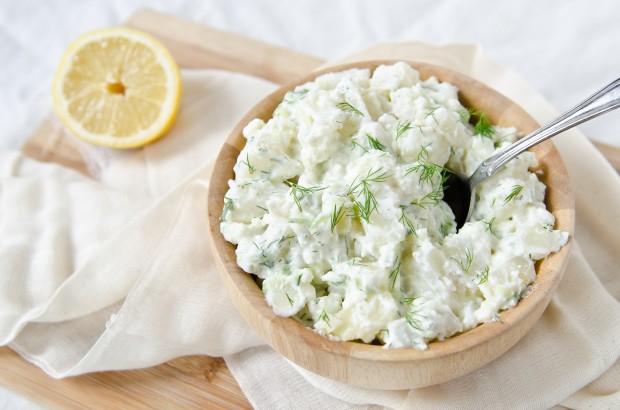 Hello! We're finally back from our fabulous trip to England and Wales and slowly recovering from jet lag. We've been going to bed at 9:00PM and up by 7:00AM the past few days since we got back. I'm never up that early by choice! *hah* Maybe I'll be a morning-person yet? *hah* Not likely.
Today is the first time we've seen the sun in 14 days! It was very rainy and chilly in London. And we came home to similar weather. Alas, today, on my first day back to work…the sun came out! :) Hmmmm…. So, in celebration of a nice sunny, spring day, I'd like to share a recipe perfect for spring picnics and BBQs – Tzatziki Potato Salad! This salad is loaded with wonderful spring flavours such as fresh dill and lemon. And it's lightened up by using fat-free greek yogurt with only a touch of mayonnaise. Add some garlic, cucumber and a bit of feta cheese and you've got one flavourful salad. Feel free to add some freshly chopped mint to this salad. Mint and dill pair up nicely with fresh lemon in this tzatziki.
Have a wonderful afternoon!
Ingredients
6 medium golden potatoes, peeled and cut into 1 inch cubes
3/4 cup of fat-free greek yogurt (or plain vegan yogurt)
2 tablespoons of low-fat mayonnaise (or Vegenaise)
1 large clove of garlic, rasped/grated with a microplane grater
juice of half a lemon
half a cucumber, peeled and grated
2 tablespoons of fresh chopped dill
salt and pepper to taste
1/4 cup of crumbled feta cheese (optional)
Method
Bring large pot of water with potato cubes to a boil. Allow potatoes to cook until fork-tender. Drain and rinse potatoes under cold water. Set aside.
Place shredded cucumber in a bowl lined with paper towels. Allow cucumber to sit for about 10 minutes while the potatoes cook, so that some of the cucumber juice is absorbed.
In a small bowl, whisk together the fat-free greek yogurt, low-fat mayonnaise, garlic, and lemon juice. Add drained, shredded cucumber . Season with fresh chopped dill, salt and pepper. Note: if you are using feta, don't use too much salt when seasoning the tzatziki.
In a nice serving bowl, combine the cooled potatoes and the tzatziki sauce. Add 1/4 cup of crumbled feta cheese and mix. Allow potato salad to sit in the fridge or at room temperature for at least 30 minutes before serving to allow flavours to meld.
Notes