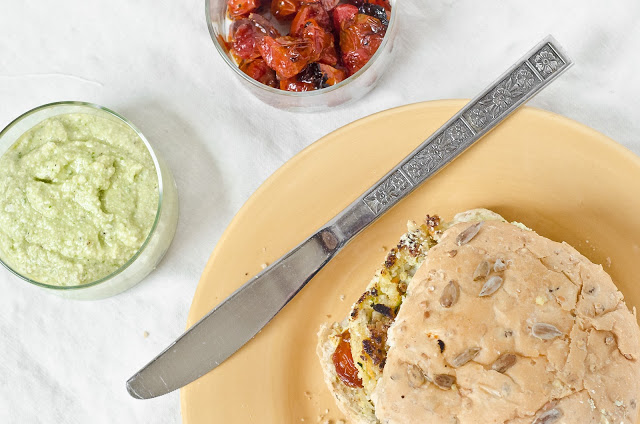 I love a good veggie burger. They are so satisfying! I especially love the veggie burgers with a good dose of healthy grains and vegetables. I also love how creative veggie burgers can be. I've had a number of awesome veggie burgers in my life time. My favourite veggie burger is from a local restaurant called Baked Expectations. I was also very impressed by the veggie burger at Black Bird Cafe in Minneapolis, Minnesota. The veggie burger was a black bean burger, but it had delicious tart dried cranberries baked in. I have also tried a falafel-inspired veggie burger with homemade banana pepper salsa and a pakora-inspired veggie burger with a fantastic curry mayo. Mmm! 
A few weeks ago, I realized, as much as I LOVE veggie burgers, I've only ever made them at home once. I've been too preoccupied trying all of the veggie burgers restaurants in my city have to offer. About a year ago, I made thai chickpea falafel veggie burgers. They were fantastic! (note to self: share this recipe soon). But I have yet to find a "standard" veggie burger recipe that I could go to whenever I need a burger to use as a blank canvas. A few weeks back, I decided it would be my mission this summer to find the perfect go-to veggie burger recipe. 
These Mediterranean Quinoa Veggie Burgers are my first attempt at finding such a perfect burger. And they were good! They had a really nice texture and were perfect when paired with mediterranean flavours such as roasted balsamic tomatoes and feta almond pesto. I think they would work nicely with latin flavours as well, if I were to add some cumin, chili powder and fresh corn to the quinoa mixture. Perhaps I could even experiment with indian flavours or thai flavours – perhaps make a delicious mango chutney or stir in some finely chopped thai basil. Hmmmm! Lots of possibilities!!! 
My only complaint about this burger, was that it was a little tough trying to get the patties to stay together. They were really light and therefore, I would not recommend cooking these on the BBQ. So, if you are looking for a veggie burger to really sink your teeth into, then I'd suggest trying one with beans and/or tofu. Since these patties were not fried in oil, the are low-fat. The exterior of the burger crisped up nicely and the interior was nice & soft – without being too mushy. These were a great first attempt, if I do say so myself! This one is a contender! 
If you know of a fantastic veggie burger recipe you think I should try in my quest to find the perfect one, please post the link in the comments :) Thanks!
Ingredients
1/2 cup of uncooked quinoa; rinsed (about 2 cups cooked)

1 teaspoon of vegetable or canola oil

1 cup of coarsely chopped cremini mushrooms

1 cup of coarsely grated zucchini

3/4 cup of coarsely grated carrot

1 small shallot, minced

1 clove of garlic, minced

1 egg beaten (or flax egg)

2 cups of panko bread crumbs

salt and peper to taste
Garnish
Method
1. Place the grated zucchini and carrot in a colander/strainer lined with paper towels to reduce some of the moisture.
2. Meanwhile, bring 1/2 cup quinoa and 1 cup of water to a boil. Once boiling, reduce to a gentle simmer and cover. Cook on low heat for 10 to 12 minutes. Remove from heat and allow quinoa to sit for 5 minutes. Remove lid and fluff quinoa with a fork.
3. Heat a large, wide non-stick frying pan over medium heat. Add the oil then the mushrooms, zucchini, carrots, shallot and garlic. Sauté for 5 minutes. Add the quinoa. Stir in the egg or flax egg. Season with salt and pepper.
4. Allow the mixture to cool slightly then combine the vegetables in a bowl with the panko bread crumbs. Heat the same non-stick frying pan over medium heat. 
5. Firmly press some of the quinoa mixture into 1/2 cup measuring cup. Turn and release the patty into the pan. Gently press to shape and ensure the burger will stay together. Flatten the burger slightly. Repeat, cooking 4 patties at a time. Cook each patty until golden and warmed through (about 4 minutes per side). 
6. Place patties on a whole grain bun. Garnish with feta almond pesto and roasted balsamic cherry tomatoes. Note: toast buns if you'd like a crunchier burger.
Source: loosely adapted from Chatalaine Magazine July 2011