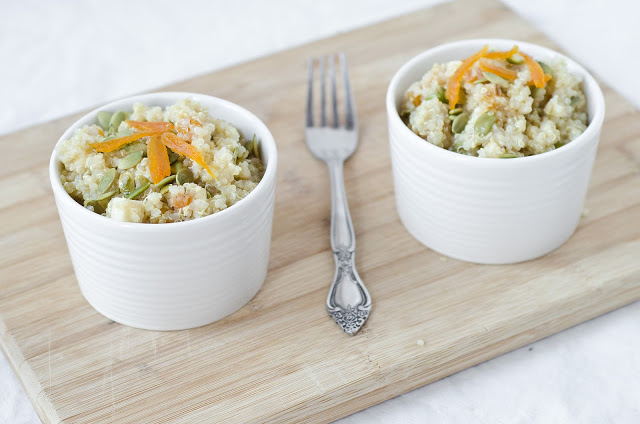 For those of you lovely people who have followed The Fig Tree for a while, you've probably noticed that I love quinoa. In particular, I love making salads with quinoa. Using quinoa as a base, you can experiment with different dressings and add-ins, and you'll end up with a different, unique salad every time. This past week, I decided to try a quinoa salad with a savoury garlic dressing. For the add-ins, I used medium Gouda cheese, toasted pumpkin seeds and chopped dried apricot. The combination was fantastic. I loved the sharp cheese along with the sweet apricots. The pumpkin seeds were slightly salty and added the right amount of texture to the salad. The dressing was very simple, but added a nice savoury touch to the quinoa. Quinoa is so great in salads, because as the salad sits, the quinoa absorbs the flavours of the dressing. The end result – delicious! 
I highly recommend this salad as an accompaniment to dinner, a light lunch, or as the perfect dish to bring to a summer BBQ, potluck or picnic.
If you are interested in trying out other recipes with quinoa, please check out the some of my favourites:
Wishing you all a happy Friday + a fantastic weekend! 
1 cup of uncooked quinoa, well rinsed

2 cups of water

1 clove of garlic, finely minced

1/4 cup of apple cider vinegar

4 teaspoons of dijon mustard

3/4 teaspoon of salt

1/4 teaspoon of pepper

1/4 cup of extra-virgin olive oil

1 cup of diced medium gouda cheese

1/2 cup of diced dried apricots

1/2 cup of salted pumpkin seeds, roasted
Method
1. In a medium sauce pan, combine the rinsed quinoa and 2 cups of water. Bring the quinoa and water to a boil then reduce to a simmer and cover. Cook quinoa on low for 15 minutes then remove from heat and allow quinoa to stand for 5 minutes. Remove lid and fluff with a fork. Rinse cooked quinoa under cold water and drain well.
2. In a small jar, combine the garlic, vinegar, mustard, salt, pepper and olive oil. Shake well.
3. Mix cooked quinoa, dried apricots, and gouda cheese in a large bowl. Add 1/2 the salad dressing. Taste and decide if more dressing is needed. Cover and refrigerate the salad for at least 20 minutes before serving to allow the flavours to set. 
4. Before serving the salad, add the pumpkin seeds and toss. Enjoy!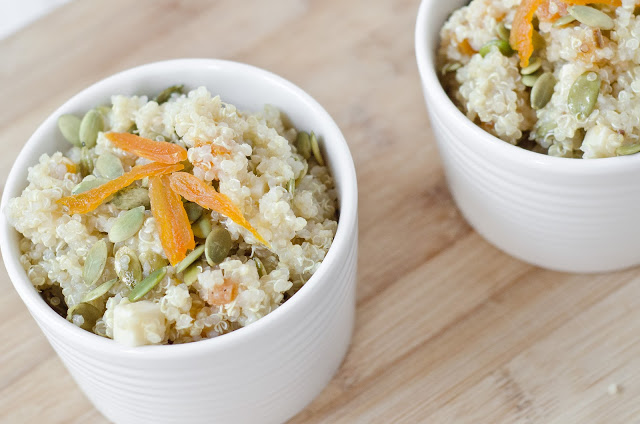 Source: Canadian Living Magazine June 2012